Private Gulet Charter – Croatia, Turkey, Greece, Italy

Private gulet charter brings you many advantages and it is a guaranteed you'll truly have a dream holiday. Booking a private gulet charter is an amazing option to consider for a group of friends or families since the whole boat will exclusively be reserved for your disposal. Also, the important fact is that we offer something for everybody, whether you are seeking for a luxury gulet cruise or something more affordable. We can offer many gulets to rent and cruise destinations for many different budgets.
And most importantly private gulet charter is completely tailored to your group wishes! You choose the boat you'll cruise in, with gulet expert team advice you choose the route/itinerary and the services on board. All this mentioned is an ultimate recipe for the best holiday of your life!
STANDARD – Prices up to 1.000 €/person/week

LUXURY – Prices from 1.000 – 1.500 €/person/Week

DELUXE – Prices starting from 1.500 €/person/week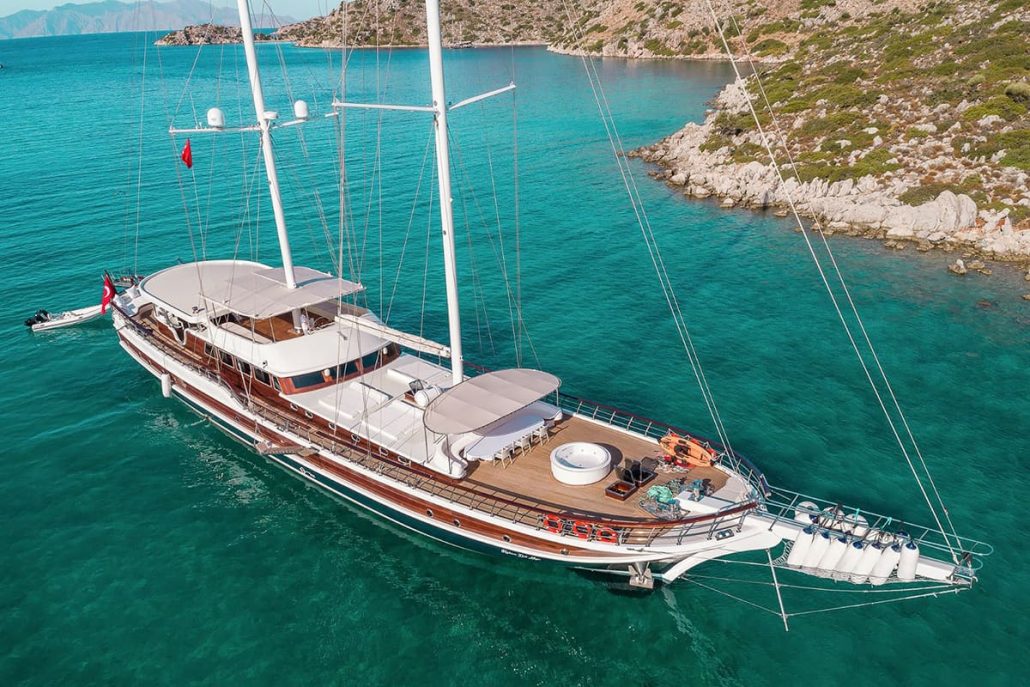 We offer destinations: Turkey, Croatia, Greece, and Italy.
Don't forget that the route you choose for your private gulet charter can be customized according to your wishes and preferences.
You can pick places you want to visit and activities that interest you the most so everything is made 100% for your satisfaction. Listed prices change depending which time in the season you plan to travel and other factors.
However, the price generally includes gulet rental, experienced crew service, personal assistant, professional preparation for the cruise, route planning. But not only that, you also get support during the cruise, fuel, and water, use of the equipment offered on board, bed linen and towels.
It does not include; catering (food and drinks) and local port taxes.
It is important to add up that gulet charter prices depend on which gulet category you choose and seasons!
GULET CATEGORIES & CRUISE DESTINATIONS
This is a 5 cabins gulet that can accommodate up to 10 people. One of few gulets in Croatia where clients are allowed to bring them own drinks!  Many clients return to Dolin and it has great reviews!
Gulet Nostalgija
Gulet Nostalgija very well maintained and comfortable gulet. It offers 5 cabins for up to 10 guests.  A crew on board is fluent in a few languages, and they have a lot of experience in cruising Croatia's coastline.
Gulet Dama
Gulet Dama was completely renovated for season 2018. It offers beautiful 4 double cabins that can accommodate up to 8 guests. Gulet is quite spacious and during your cruise, there will be 2 crew members at your disposal. fluent in English, Italian, and German.
Gulet Gideon
with 33.5 meters this is one of the largest gulets in Croatia with a lot of space on deck for your leisure time. There are 8 cabins for 16  guests and Gideon is actually perfect for families and couples.
Gulet Perla
This is a 7 cabin gulet from which 5 are double cabins and they can accommodate up to 14 guests. On board, professional crew will be at your disposal during the cruise. Clients are usually very pleased with this gulet and many returned to this nice gulet.
Gulet Luopan
This impressive gulet has 2 master and 2 double bed cabins so it can accommodate 10 guests on board. Luxury interior is made out of exquisite mahogany and alcantra, truly one of the fantastic gulets for Croatia coastline.
Gulet Nautilus
One of the most spacious gulets in Croatia with 8 cabins for lucky 12 guests. It includes a nice jacuzzi on the deck where you can unwind and relax, and also you'll find many water sports on board that are included in the price.
Luxury gulet Malena is great for cruising around Croatia coastline. It offers 5 modern cabins that can comfortably accommodate 10 guests. The crew on board is professional and experienced, and gulet itself is perfectly maintained.
Gulet Cesarica
Deluxe motor yacht can accommodate 22 guests. On the upper deck if offers large Jacuzzi for daily fun or evening romance. The whole boat is quite spacious and it comes with a professional crew of 8 members that will be at your disposal.
Gulet Maske deluxe boat that can accommodate 10 guests in 4 double and 1 master cabin – ideal for couples or family private. Each cabin is fully equipped, spacious and modern with ensuites, air conditioning and LCD TV.  The professional cater to your every need on board while you enjoy the holiday.
This is one of the most luxurious gulets in Croatia for private charter. Main features that puts her into the Deluxe category is  Jacuzzi on deck and large master cabins. She offers a huge variety of watersports so you can stay active even when cruising.
Thi gulet was built in 2016 in Bodrum shipyard in Turkey. It is one of the most luxurious deluxe gulets that you can choose for your cruise around Croatia. There are 5 cabins for up to 10 lovely guests. You will be accompanied by a crew of 6 members that will help you with anything you might need.
Gulet Grandi
Grandi is quite spacious with a capacity for 12 people, with seven cabins that are very comfortable. Grandi is built in 1993 but it's refurbished in the year 2013 and now is in a category of  standard gulets. An experienced crew of 3 will be at your service through the whole cruise.
Gulet Fortuna
This is 28 meters traditionally designed ketch gulet and it is one of the most comfortable gulet ships that aren't in luxury category that costs more. Gulet offers spacious accommodation for up to 14 guests in 7 cabins. On the deck, you'll find a cushioned area and an elegant dining area.
Sunworld VI
Beautiful gulet offers has7 well-equated cabins for up to 18 guests.  It is very spacious decorated with a lovely honey coloured pine interior. Elegant and full of character this filet will win your heart for sure! Gulets are suitable for sailing and it comes with services on board that is up to high standards.
The Sunworld IX is gorgeous 8-cabin gulet great for private charter.  30 metres long with  8 gorgeous cabins for up to 20 guests. Gulets elegance, spacious areas and classic design will amaze you. This gulet is suitable for larger groups of family, friends, couples or singles, really for almost anyone!
Gulet Kayhan 3
One of the newest gulets to enter the turquoise waters of Turkey. It has room for 12 guests in nicely decorated 5 cabins. She presents an overall soft colour scheme both in the interior and exterior and spacious areas to enjoy a luxurious holiday at sea with memorable sunsets and cocktails.
Yuce Bey 1
Luxury 5 cabin gulet Yucebey 1 is a 24 meter modern designed for private yacht charter in Turkey. She was built in 2008 and has 5 luxury cabins that can accommodate up to 10 people and has very impressive sailing performance too. With a friendly and hospitable 4 crew on board, you will have an unforgettable cruise!
Gulet Queen Lila
This is one of the most fabulous luxury gulets in their fleet. The high-quality teak and mahogany wood makes this gulet look magnificent!  It has 7 double cabins that can accommodate 14 guests. Each well equipped and has en-suite bathrooms. The spacious deck areas have a lot of comfortable sun beds, a dining area and much more!
Gulet Atalante
Luxury Turkish Gulet Atalante was built in 2009 and it combines nice mix of traditional Classic Gulet and contemporary interior and modern facilities. Gulet offers comfortable accommodation for 8 guests in 4 suites. On board you'll be acompanied by professional crew  of 5 members.
Gulet Halcon Del Mar
Halcon Del Mar is one of the largest ultra-luxury yacht exclusively built for season 2018. It has an extraordinary amount of space with gorgeous jacuzzi on deck and can accommodate 16 guests in 2 Master cabins, 4 Double cabins, and 2 Twin cabins.
Gulet Kaptan Mehmet Bugra
This 38 meters gulet is a super-luxury yacht that can accommodate 18 guests in 8 cabins. It can cruise in Turkish. Kaptan Mehmet Bugra also offers the biggest watersports selection for your fun. And there you'll also find Jacuzzi that can be filled with sea water or fresh water.
Luxury 5 cabins gulet can take up to  10 guests. It also comes with friendly and hospitable 5 crew on board and it is available for charter in Turkey. It was totally renovated and refreshed in 2015. She has 1 master, 2 double and 2 twin cabins, totally 10 people can accommodate on the gulet. Each cabin is fully air-conditioned and equipped with en-suite bathroom.
Gulet Arabella is 30-meter gorgeous luxury gulet yacht completely renewed for season 2018. She offers a high-quality structure and luxurious decor for your relaxation. There will be 5 crew members at your disposal during your cruise. Gulet has 4 comfortable cabins that can accommodate up to 8 guests.
a) TOP GULETS FROM FROM STANDARD TO LUXURY
Gulet Kapetan Kosmas
Gulet Kapetan Kosmas is a 26-meter luxury gulet yacht. She was beautifully refitted for season 2018. This nice gulet can accommodate 10 guests in 5 cabins. For those who were looking for an ultimate sailing experience, you have found it!
Gulet Muhtesem A
Gulet Muhtesem A is a traditional Ketch gulet built back in 2013. Her base port is on a Greek island called Kos Island. Gulet can comfortably accommodate 16 guests in 8 cabins (6 Double cabins and 2 Twin cabins). It is spacious so there is a lot of space for you to relax.
Gulet Erato
Gulet Erato is one of the few gulets in Greece that can accommodate up to 19 people. There are lots of cushioned areas on deck for sunbathing and relaxation. Traditional Greek recipes and Mediterranean cuisine will be served on board and even the biggest critics will be happy.
Motor sailor yacht Arktos is a newly built traditional wooden schooner and one of the finest designs of Greek craftsmanship. Interestingly Arktos name refers to a Greek bear. It can accommodate up to 11 guests in 5 modern cabins and guests will be provided by an experienced and professional crew.
This is a 6 cabin yacht from Italy that can accommodate up to 12 persons. You can cruise between Marina di Stabia, Naples, Amalfi Coast and Milazzo and enjoy beautiful landscapes and great food. The crew team consists of Captain, Chef, Sailor and Hostess that will be at your service.
Gulet Victoria
Gulet Victoria was renovated in 2017, a new engine was built in and in addition, they have changed towels, linen and sheets. This gulet is based in Sardinia. The crew always strive to provide the best services to their guests.
Gulet Silver Star II
Gulet Silver Star II is 23 meters long gulet that is available for cruising through Italian sea between Marina di Stabia, Naples, Amalfi Coast and Milazzo. There was major refit in season 2017 and some in 2018. It is great for small groups that want privacy on their cruise.
Clear Eyes
The most beautiful sailing yacht in the Eastern Mediterranean! You will be impressed by leisure and entertainment facilities ideal for socializing with family and friends. A professional crew of 8 will provide excellent experience throughout the cruise.