ULTIMATE TIPS FOR SAILING IN CROATIA
Gulets that sail, some might laugh and say no way! But the truth is there are gulets that have gorgeous sails that are not just purely decorative per say… Sailing with gulets isn't impossible but finding sailing gulet is limited.  And that is the prime reason why many don't believe that sailing is possible with gulet type boats. This post will provide you with the best route example in Croatia and some essential information provided by experts in sailing with gulets gathered over the years that build up the big experience.  But not only that, we'll provide you with gulet ships that have superb sailing abilities.  And we'll point out the best sailing gulets in Croatia waters.
1. There are a few different types of sails you can usually find on gulet boats.
The headsail on gulets is called s genoa sails and it is the main driving sail. This is a type of large jib (triangular sail that sets ahead of the foremast of a sailing vessel) or staysail. It extends past the mast and so overlaps the mainsail when viewed from the side. If the wind is too strong smaller Genoa sail won't be enough.
The main one is called Master and the back sail is called a Gaff rig and its placed there because of its shape and size. Gaff rig is a sailing rig whose sail is four-cornered, which means controlled at its peak and its entire head by a pole we call the gaff. So that's why it's called back Gaff rig sail.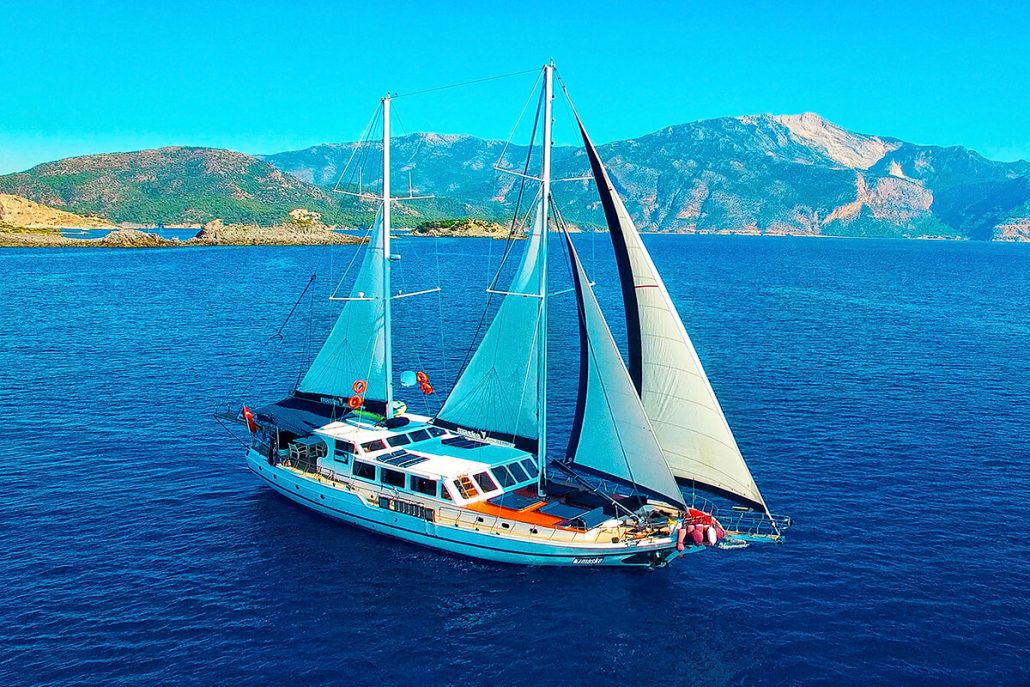 2. Gulets are different than sailing boats.
Gulets are gorgeous unique wooden primarily motor sailing yachts so for their travelling they use the strong motor.
To add up on that, the first fact to know that is purely logical;  is that gulets are quite larger and much heavier than sailing boats.
So for that reason, they need more wind power. So some gulets that are somewhat lighter will have better sailing abilities than others.
If you are a sailing enthusiast or you are just simply looking for good quality sailing experience, it is very important to inform your agent in your inquiry about all wishes regarding sailing!
Not once, but maybe even twice!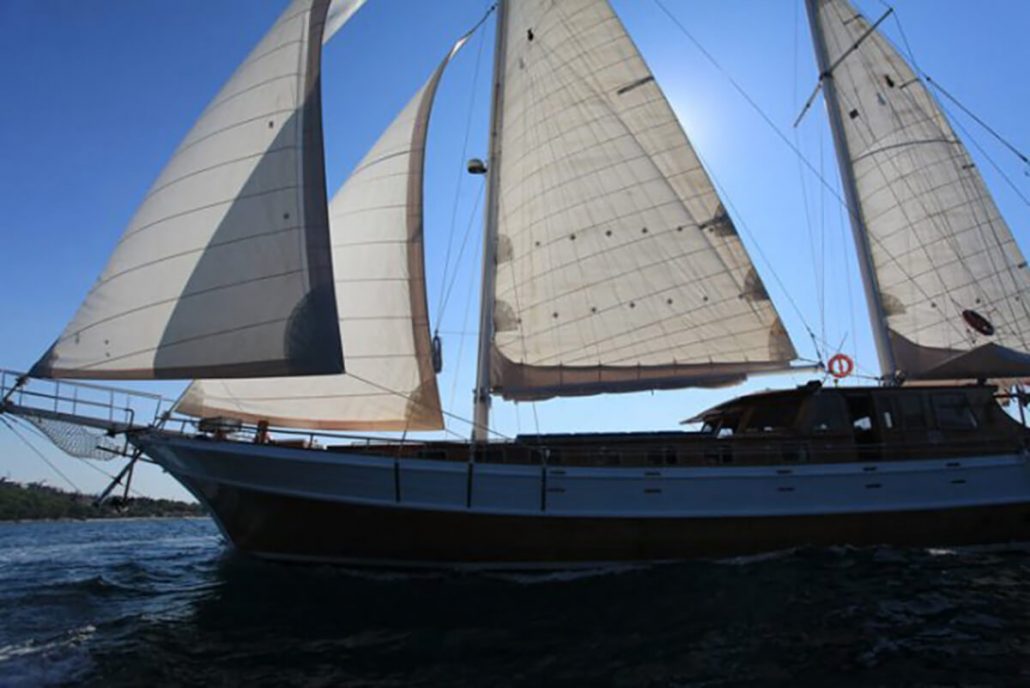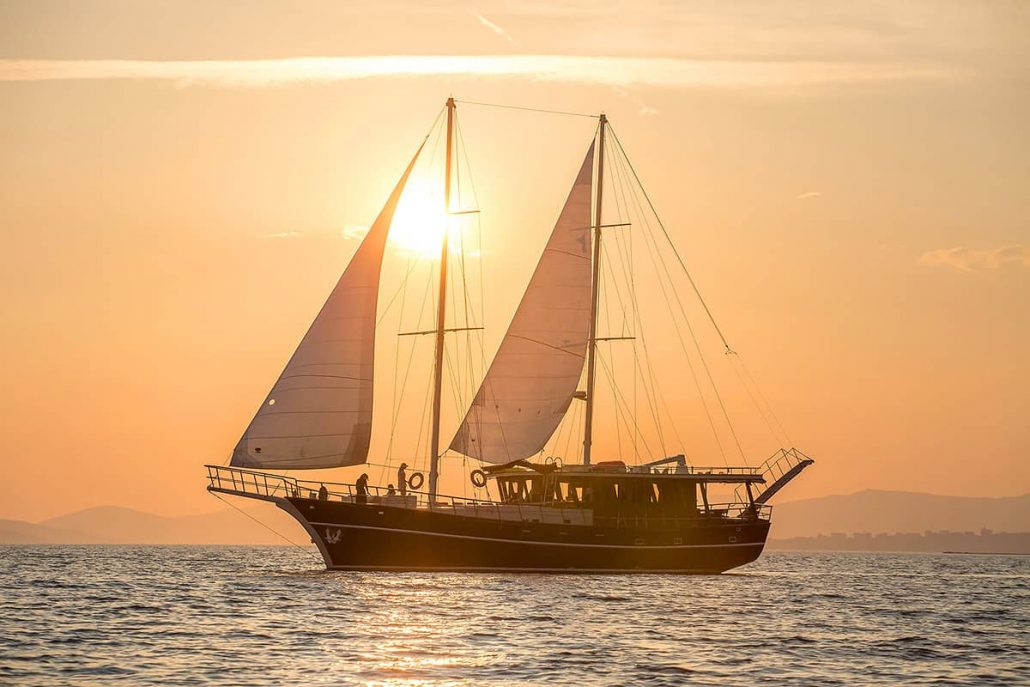 3. The weather has to be on your side!
Even if you did everything right, picked a nice gulet with great sailing abilities and crew that has experience…
If the weather is bad nothing can change the fact that wind is weak and you won't be able to sail.
But thankfully cruise lasts for 7 days and we are sure you will have some good luck with the wind at least for a one day.  Experience Captain will give his best at finding a route with good wind power.
So we all, and you should too, keep fingers crossed for a good strong wind!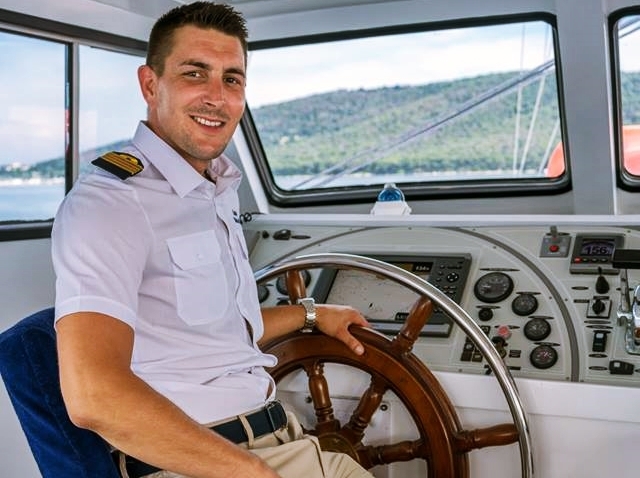 4. A short interview
Experts in sailing and owners of gulet Maske; Captain Marko and his wife to be Suzana answered on some interesting questions:
Which area in Croatia is the best or most suitable for sailing in Croatia waters?
The best route for sailing is certainly the middle of the Adriatic sea.  Primarily because of the general good position and position of the islands that almost always have winds. On a gulet cruise, people usually love to sail from one island to another island every day. This area of the middle Adriatic has many island choices and distances between them are quite short, with gulet it is around two to three hours.
Do you know some routes/destinations that have been favourite among guests? Or is there some that experienced Captain himself would recommend?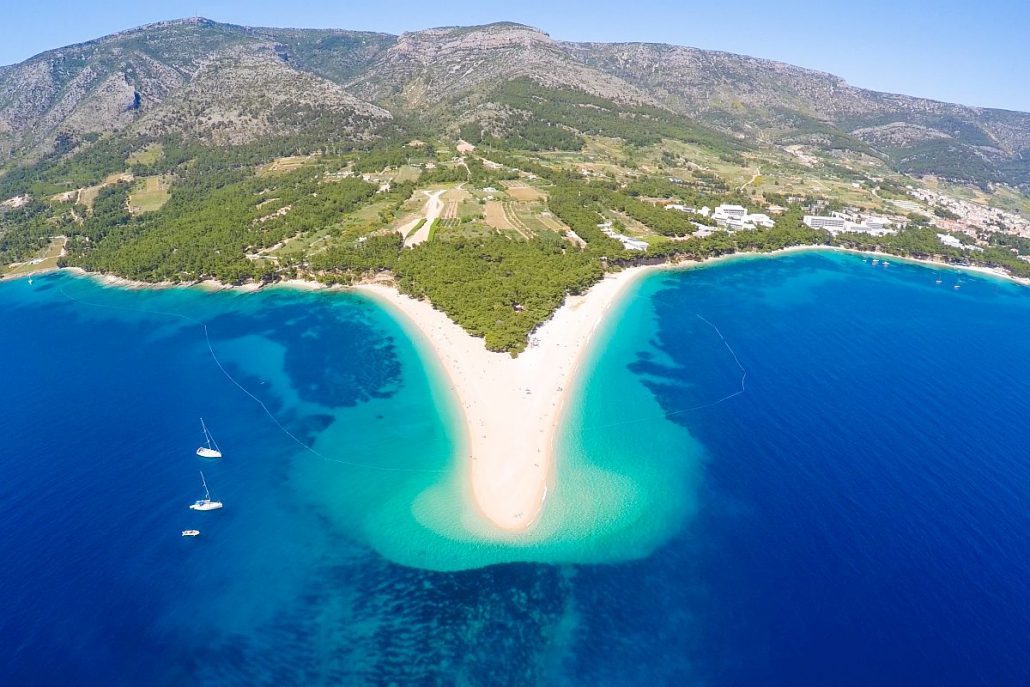 Sailing in Croatia means more than just spending time on a boat and enjoying the adventure… It also means enjoying and experiencing more than a thousand islands and islets. One of the most beautiful afternoon sailing experiences in the Middle Adriatic is sailing from island Brač to beautiful picturesque island Vis. Besides that there you'll experience the most beautiful sunsets in the world.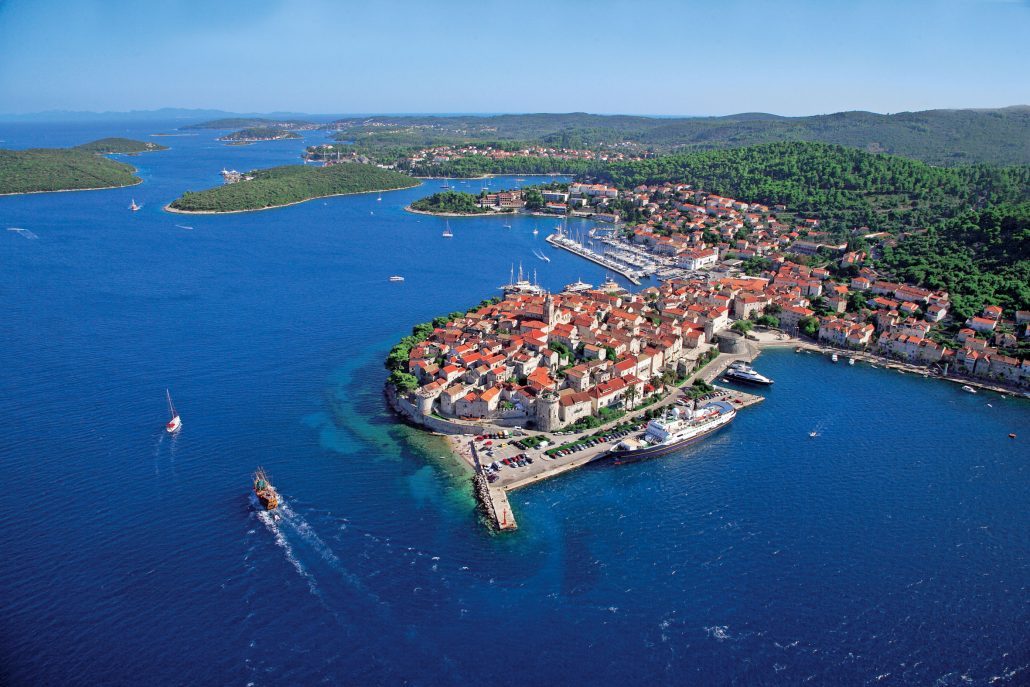 Another favourite of Captain and many other guests is a route from island Hvar popular among even among world famous superstars. And then head to gorgeous island Korčula where winds are really in the ideal position and they make sailing smooth and enjoyable for everyone on board.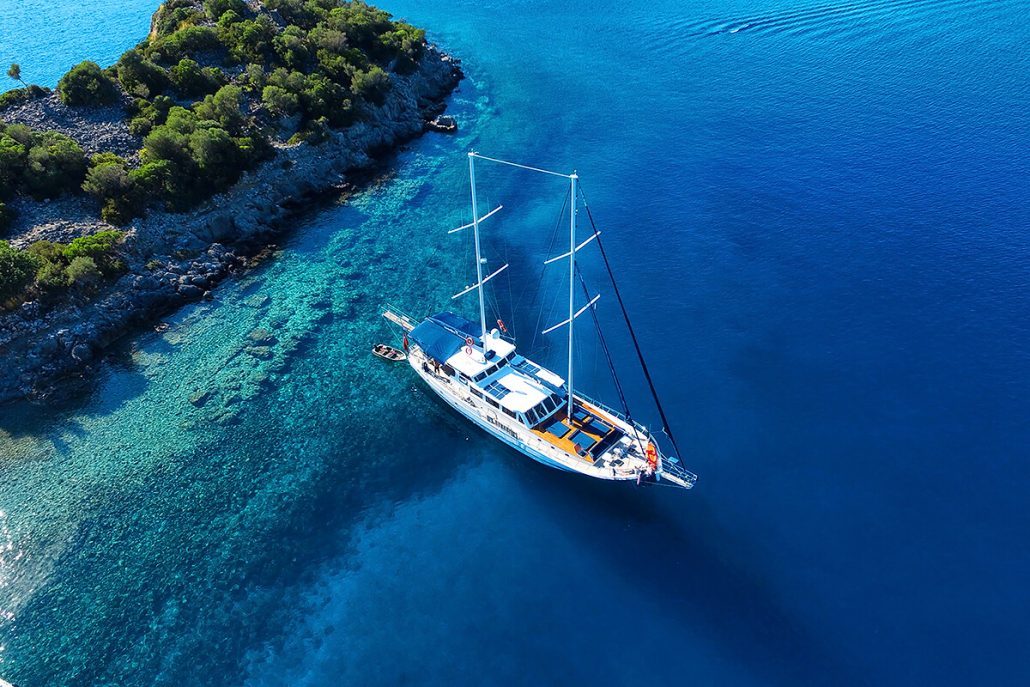 Are there any things clients should know before they embark on a sailing adventure? What are some of the safety measures?
Guests should listen to an experienced Captain, so we can minimize the risks and maximize your enjoyment while sailing.
It's important to know that not every wind is a good wind.  Don't be forceful with demands for sailing if Captain advise you that wind is not good. For example, strong wind in Croatia called Bura is actually quite dangerous for sailing.
You might wonder why isn't the strong wind what gulet needs? Well, wind Bura has big oscillations in wind power in a short amount of time from 10-50 knots! While winds like Jugo and Mistral (Maestral) are perfect because they have constant wind.
So while sailing even in perfect conditions all guests on board should be aware of where they step! Why?
Well, since there will be a lot of ropes, poles for sails, a transient winch with high power transmission, usually used to tighten the rope but also the chain (anchor), and you could trip or slip.
Important as well is that guest don't touch a rope that performs the basic regulation of sails. Captain will make sure before the cruise starts to introduce everyone with safety measures and thing to look out for during the cruise and during the sailing.
As a guest, you can always enjoy and relax at flybridge or stern and enjoy the sounds of waves crashing into a boat and endless sun. Possibilities are endless!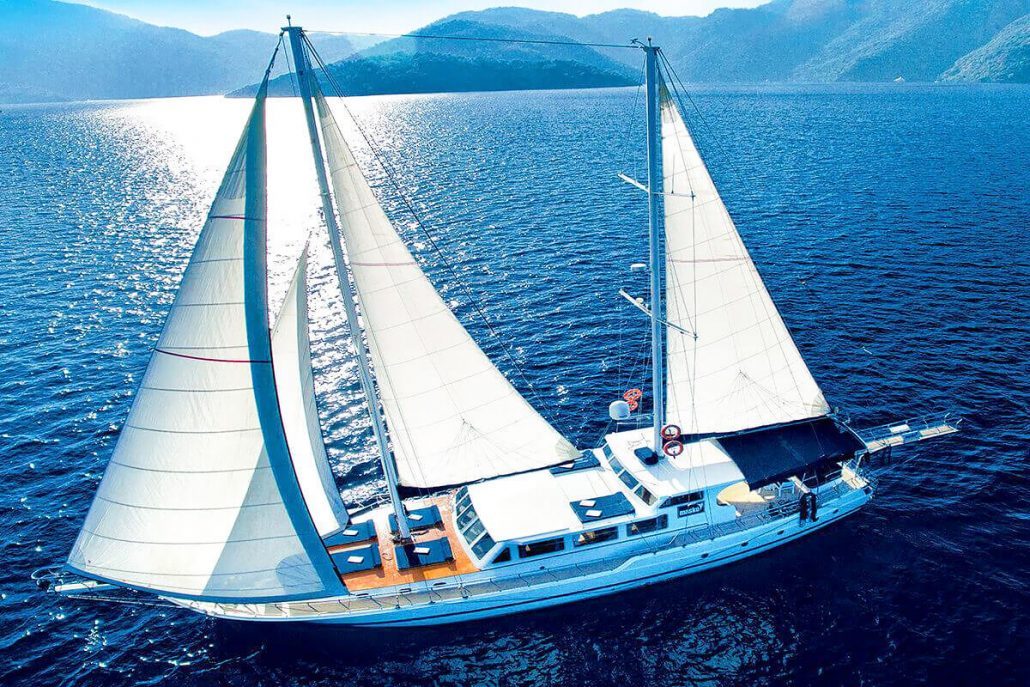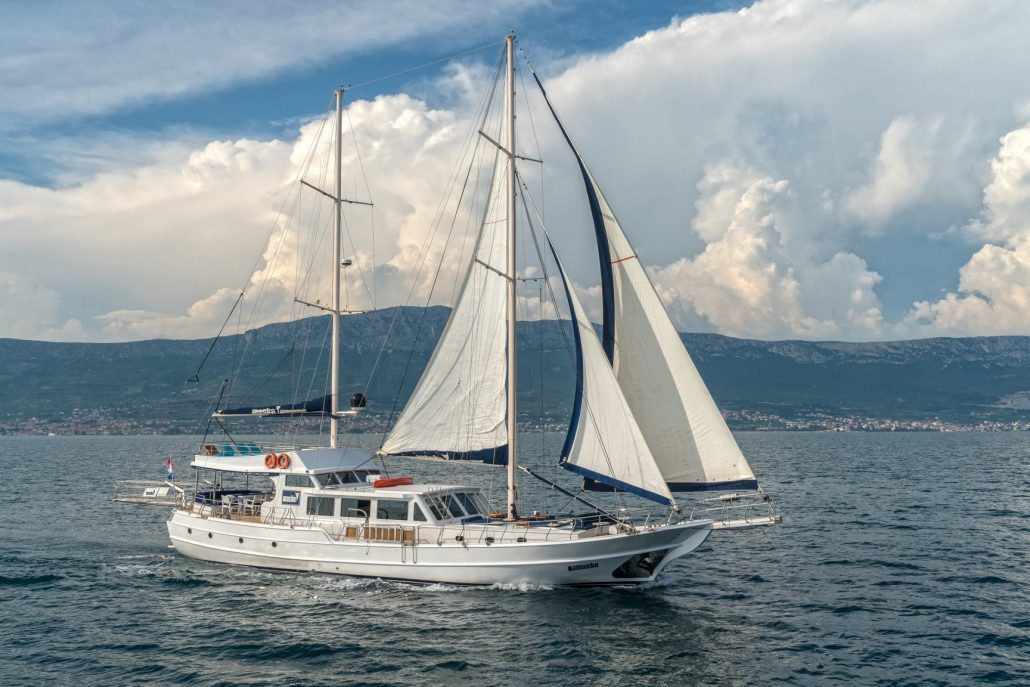 Guest also need to know that sailing in conditions where wind id 20-25 knots on gulets is extremely dangerous. Especially if gulet is being handled by the inexperienced crew!
Gulets are not like sailing yachts, they are much heavier and if the gulet leans too much on a side it will be hard to bring it up and level him out.  And that simply means trouble!
Take care of your physical needs too.
Always remember to keep hydrated and to get protection from the sun while on deck that can become quite harsh.
Always be aware of the moving parts of your boat since some stuff can be moving and be shifting, so be watchful.
How many times per week do you usually sail with Maske? Or does this depends on guests wishes?
On Maske, we respect our guests' wishes. Whether that means sailing every day of the week or sailing just once or twice in a week. You can discuss your own ideas with the captain, tailoring your sailing in Croatia to your own requirements. Besides that, we take into the consideration the weather conditions and try to plan ahead so everyone has a great experience.
28 meters Maske is definitely gulet with the best sailing abilities in our offer for Croatia. It is also one of the newest and most luxurious gulets with great features and advantages. Captain Marko has a lot of experience since he started working on boats when he was only 16 years old. He truly has excellent knowledge of the Adriatic coast. He will pick a route with the best conditions for sailing experience while still aiming to show you the most beautiful places along the coastline. Along with the Captain, you'll be accompanied by a crew of 4 on board so smooth sailing is guaranteed. To add up, this gulet features 5 en-suite cabins that offer modern design, full of natural light combined with a high level of comfort. There is 4 double and 1 master and they can accommodate up to 10 guests who want to experience Croatia to the fullest.
Gulet Experts Team Can Help
Our team of gulet experts will assist you in finding the best gulet for your group sailing experience and they are here for you for any gulet cruise related inquiries.