Get Ready To Be Amazed- Turkish Gulet Types, Prices And More!
Ever wondered what exactly is Turkish gulet? What types of gulets there are and what do they all mean? Or if you are an expert yourself and you already know the answer to previous questions then maybe you want to know more about charter prices in Turkey or how much would it cost you to own a gulet yourself. Well, we have all the answers in one place and more.

So take a bit time off and get informed now!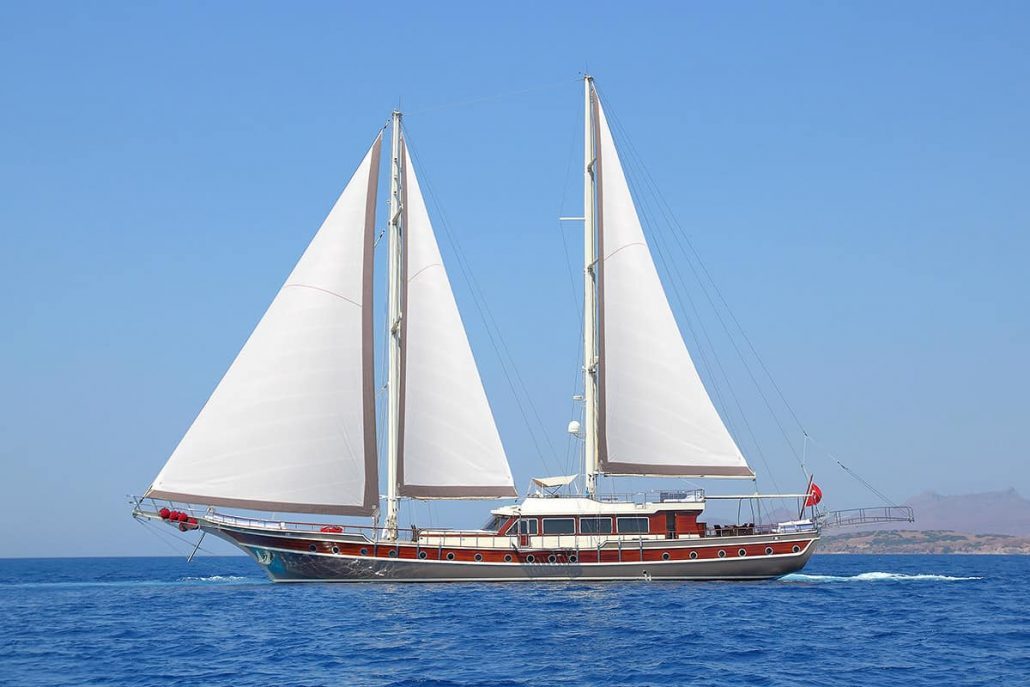 1. What exactly is a gulet?
Gulet is a traditional mostly wooden sailing vessel. His average size can vary from 20 – 55 meters in size, coming with well-equipped 4 to 8 cabins.
These cabins can accommodate between 6-16 people (sometimes more on special gulets).
Beautiful gulet boats spend most of their time travelling overseas visiting islands, towns, bays and hidden gems. It's impossible that you'll get bored!
There are many gulets to choose from and renting one can be difficult because it's hard to decide which one is perfect for you.
But don't worry; our experts are there to help you so you can get perfect gulet with a correct crew. (Capitan, Chef, Hostess, Sailor, Waiter.)
Few additional things you should know:
You can choose from 3 main categories (Standard, Luxury, and Deluxe). All of them are coming with a professional experienced crew which will ensure that you have the best experience.
The crew on board can make or break your holiday experience.
Better the conditions of a gulet, higher the price.
More services and additional features on a gulet, the more expensive it becomes.
There is no dress code on a gulet, but cabins are smaller than hotel rooms so be reasonable with the amount of stuff.
Don't forget; sun cream, sunglasses, swimsuit, few casual outfits, a book and your everyday personal hygiene products.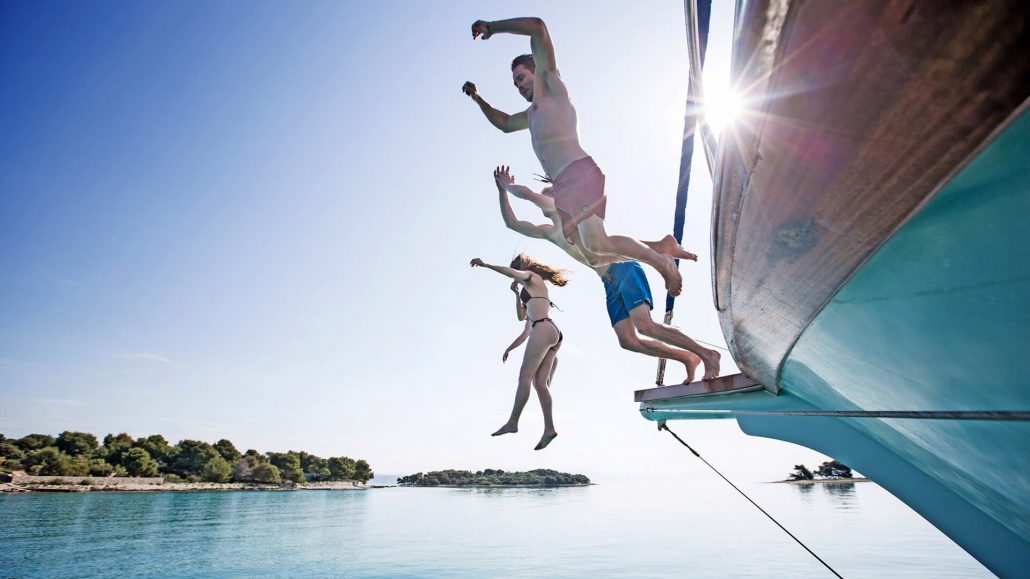 2. Gulets from Bodrum
The main characteristics of Bodrum gulets, when compared to others, is, of course, the origin of the gulet but also the shape of the boat.
Gulet types of boats characteristically have their back decks in more round shape and their full bodies are quite close to the water which is nice.
But Bodrum boat builders were not very keen on the idea of keeping this characteristic of round shape so they decided to give it a different edge.
Furthermore now we easily can recognize gulet from Bodrum by its shape at the first sight.
However, it is important to add up how nowadays boat builders both in Bodrum and other regions are paying more attention to other details and how to make luxurious ambience… not focusing just on the shape.
3. Marmaris and Fethiye boat
The other areas Marmaris and Fethiye boat builders realized during a period of time that they can get more boat space if they lift the back deck higher.
Once they lift the back deck it resulted in a sort of like a knife cut shape which is called KETCH type of gulet.
Because of knife-cut shape and lifted up deck; they boat builders manage to place 1 or 2 more cabins at the back deck.
All those cabins have beautiful windows so guests can easily see the water from their cabins and enjoy the view… Typically Ketch Type of boats has their Master cabins, especially at the back deck.
Naturally, this new design affected the boat's height as well, it is more distanced from the water than regular gulet.
And cabin ceilings are a bit high rather than on standard Gulet Type of boats and have more spacious areas.
Prices for gulet charter range from 850 up to 1,200 euros per person, per week. Included in the price: charter of a gulet, crew, fuel, full board, and port taxes. However, the budget is flexible as much as you are. Price is different depending on each season and now I will explain more in details.
P.S. We advise you to give us your approximate budget so we can give you the best possible deals. We believe you should be getting more for your money, instead of being overly focused on saving money!
B. MIDDLE SEASON
In middle season the many bookings are made, which means it's more expensive. But there is still room for getting good deals. This time is the perfect combination of sunny days and slightly cooler temperatures. But the atmosphere is not as lively as high season.
5. Turkish gulet for sale – prices
Costs for gulets really have a huge range. You could get 5 years old gulet, 24 meters long and with 6 cabins, for less than €200.000.  But depending on the quality of gulet prices can go much higher. Best gulets for example luxury 34m Gulet Grande Mare worth is €1,000,000.  It comes with 6 cabins and it can accommodate 12+2 guests. So as you see prices vary a lot.  If you are interested in buying gulet and you want more information about prices and possibilities, send us an inquiry and we will help you.
6. Gulet that sail
I have to be honest sailing with gulets isn't as easy as sailing with sailing boats.
And there is a simple reason why is that so. Firstly, sailing with gulets is possible but very limited.
Why you may wonder…
Well, gulets are different and heavier than sailing boats, therefore, need much more wind power.
That's why your sailing adventure depends strongly on the weather.
They are usually motor powered but some of them can sail very well while others cannot.
Here are some of the gulets that can sail: Alessandro, Dulce Mare, Carpe Diem 5, etc. (Check the photos below)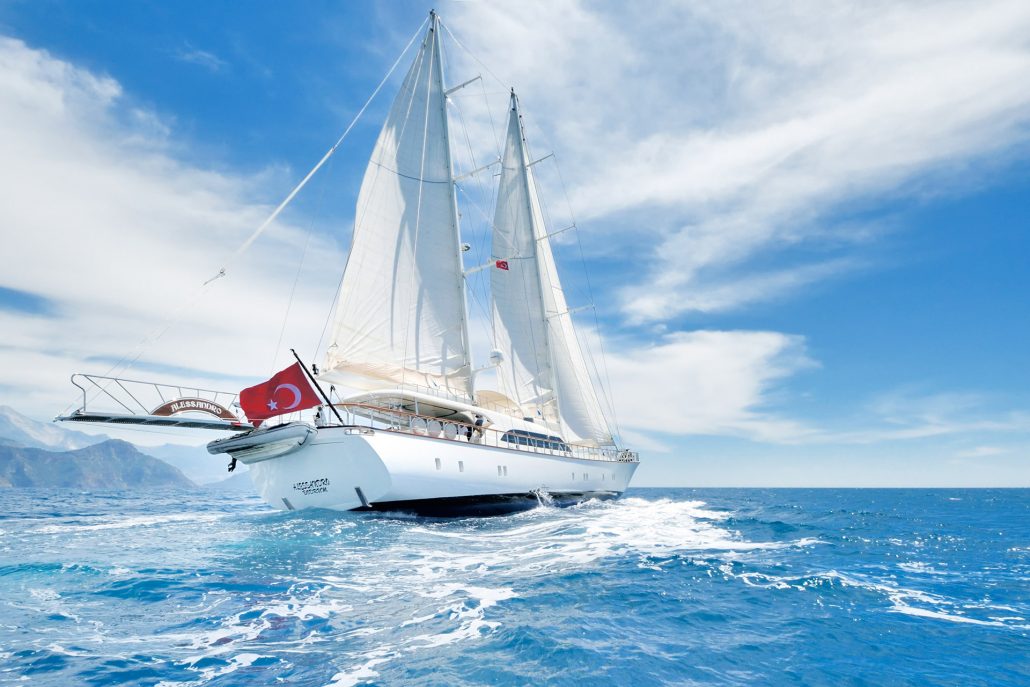 7. Small gulets – for those who seek intimacy

For those who seek privacy and travel in smaller groups, there are small gulets ships on market as well. You can expect very intimate and private experience during the cruise due to gulets sizes and comfort level. Also, your crew on deck will be able to give you personal one on one attention for any help you might need.
Some of the small gulet examples are Dare to dream gulet, Düriye, Ceylan, Gulet Artemis & Simay …
Gulet Experts Team Can Help
Our team of gulet experts will assist you in finding the best cruise for your group and they are here for you for any gulet cruise related inquiries.