4 Cruise Destinations & Gulets You'll Love
Thinking of renting a gulet and experiencing the greatest holiday of your life? There are four main Blue Cruise destinations are Croatia, Turkey,  Greece, and Italy. And to be honest it's hard to pick one because each and every one is beyond beautiful. But this post will present you one gulet for each of this remarkable destinations. These gulets are one of the top yachts and they are each quite different from each other. In the end, whatever your decision ends up being, you surely won't be dissatisfied and you'll maybe decide to come back another season for another destination. So let's start!
DRAGON FLY
Gulet by the name Dragon Fly  with its 39 meters is one of the biggest and the most luxurious gulets that you can choose for your cruise on Croatia coastline.
On board, you will be greeted by friendly and qualified crew members of 6 people. They will be at your service during the whole cruise.
One of the big advantages of this board is 2 tender boats which you can use for transfers from the shore and back on the gulet.
Gulet has 5 en-suite cabins (Master cabin, 2 Double cabins, and 2 Twin cabins) that can accommodate up to 10 guests.
During your cruise, there will be a professional crew of 6 people that will always be at your service for anything you might need. A vast number of amenities will be at your disposal.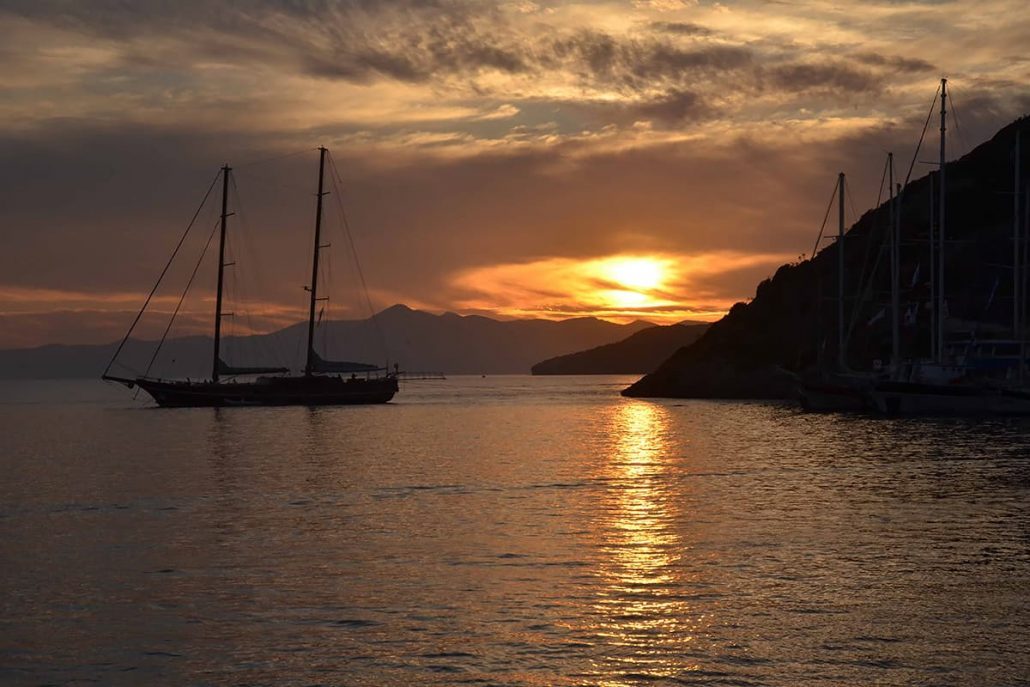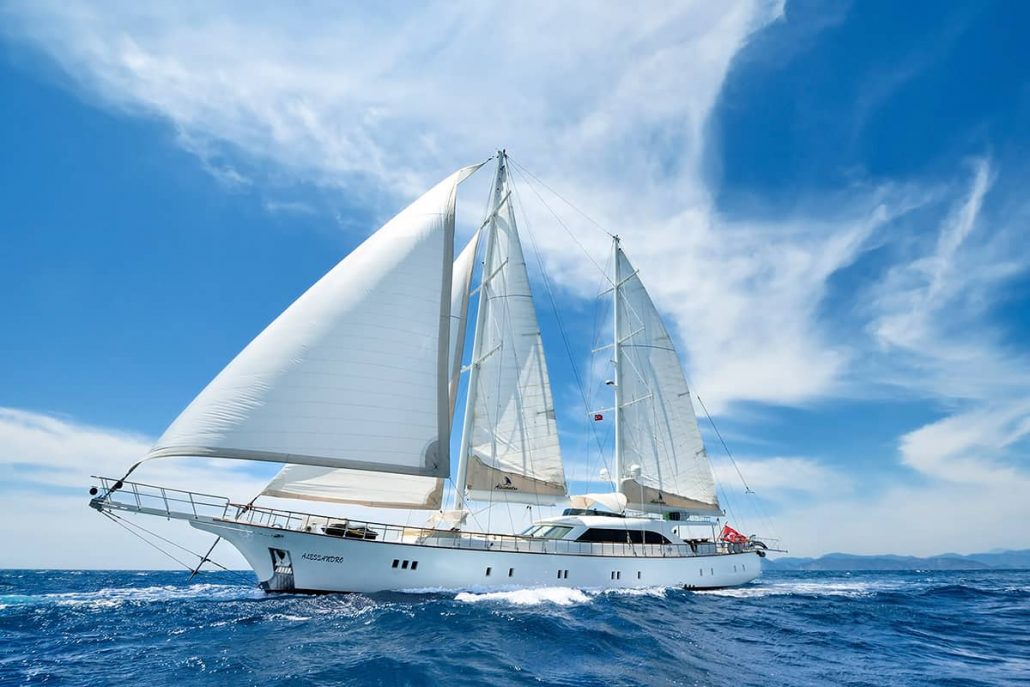 ALESSANDRO
For Turkey, this luxury yacht is 40 meters long! Alessandro is specially designed to give top quality experience, a significant level of pleasure to the picky yacht renters. It has modern and large cabins, saloon and deck. There are 4 master cabins with french bed, 1 twin cabin with 2 single beds is offering a spacious accommodation for up to 10 people. In each cabin, you'll find included separately placed shower unit, and its own private shower and toilet. The big benefit is that yachts have air-conditioner included in the price, at each cabin for 24 hours per day. Also worthy of mentioning is that there are fully water sports facilities on board and also this gulet can sail so everyone seeking for sailing experience will be content. For ultimate relaxation on the sundeck, you'll find Jacuzzi and sunbathing area on the flybridge. Expect professional crew on board with top service.
Turkey is a new top destination for many, discover why!
Matina
Gulet Matina is traditional Greek motor sailing gulet with authentic and real naval characteristics. All sailing enthusiast can experience real sailing in Greek waters with this beautifully designed gulet. This gulet is a TOP pick for large groups since it's 38 meters long and it has 8 cabins that can comfortably fit up to a max. 20 guests. Its top quality design is followed by the top quality crew. Onboard you will meet your expert crew that consists of Captain, Chef, 2 Deckhands and Hostess. For endless fun, there is a variety of water toys included like,  Water skiing,  Donut and Banana ride, 1 kayak for 2 people, 2 paddle boards and 3 windsurfers with 5 different sails. Other amenities include 14 sun mattresses for endless pleasure in the sun or in the shade, leisure area on the back side of the deck and barbecue.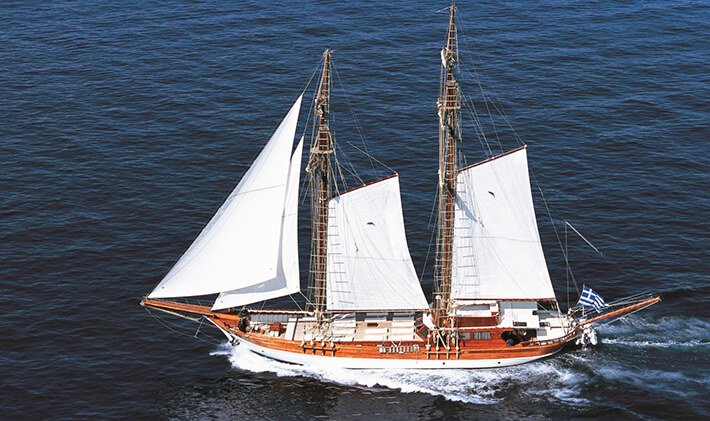 Find more info & start planning your Greek cruise!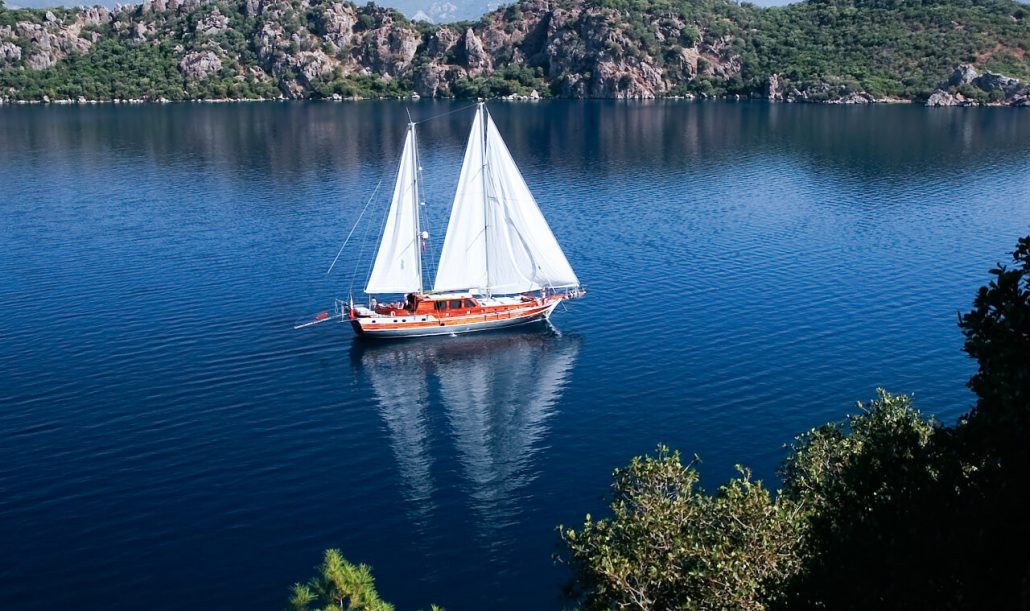 Gulet Silver Star II
Silver star II is 23 meters long gulet that has 4 elegantly decorated cabins that can accommodate up to 8 people. This makes him a great choice for small groups that want intimate atmosphere and privacy. The gulet is available for cruising through crystal clear Italian sea between Marina di Stabia, Naples, Amalfi Coast and Milazzo. In season 2017 there was a major refit but it didn't stop there because in season 2018 gulet was fitted with new cushioning on board. The boat is therefore well maintained and you can expect luxury tranquil atmosphere. On board, you will be accompanied by a crew of 4 members (Captain, Chef, Deckhand, Hostess) who have a lot of experience.  Gulet is also equipped with: tender boat: 4,2 meters, kayak, Water skiing on request, Windsurfer & Paddleboard on request.  On spacious deck, you'll find 8 sun mattresses and a nice shower
Gulet Experts Team Can Help You
Our team of gulet experts will assist you in finding the best gulet for you and your group!