Luxury small-ship cruise – Greek islands 2019
Beautiful Ancient Greece is a gorgeous cruise destination; particularly magical are the Greek islands that you can explore the best by sea. Greece has such big regional and architectural diversity so naturally, there are lots of different possibilities to be explored. The country is simply full of history, endless coastline, idyllic islands, cultural happenings, crystal clear sea and sun-bleached ruins that reflect the sun. The Greek culture today is livelily followed by passionate music, delicious cuisine and vast activities. Continue reading and find out about who is this cruise is for, itinerary, things to do, small luxury ships, and more!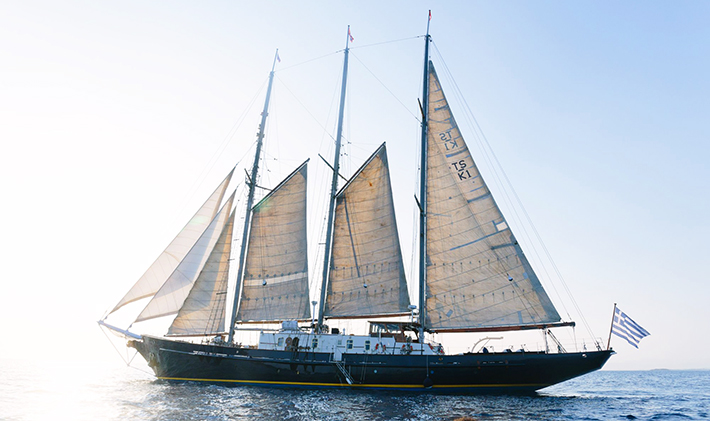 Only a handful of boats are available to cruise among the Greek islands so you have to be fast and plan early so you can take advantage of this opportunity not tomorrow but today!
If this is your dream cruise don't let it slip always!
You've been hearing only about the advantages of this cruise, but there is one disadvantage to this.
As we said there is only a handful of ships to choose from, and only a few Greek boats are departing from Athens or some port nearby.
3. Itinerary
Here you will be presented with an example of an itinerary for an unforgettable Greek cruise. This truly is an experience you will hardly find anywhere else, so you should definitely consider this amazing opportunity! Please just do remember that everything can be personalized by your wishes.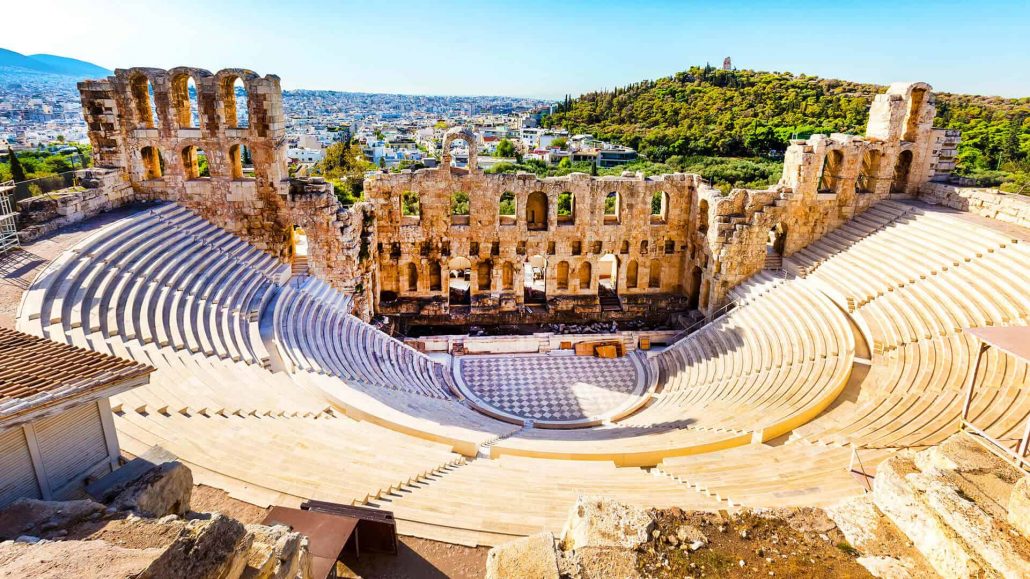 DAY 1 Athens, Greece
Piraeus is the biggest main port of Athens and in Greece in general and this is where your cruise will start and end. While boarding on your luxury ship you will be greeted with welcome drinks. After a toast, you will be welcomed by a friendly and professional crew that will be at your service on this unforgettable journey. If you are traveling with an unknown larger group this is also a great time to meet your passengers. Captain will also explain the layout of the boat so you can settle down with your luggage easily. Moving on, after that Captain will briefly repeat the planned out route, and after that, you can relax or go to explore the wonders that Athens offers since you will be staying there overnight. And no visit to Athens would be complete without a visit to the Acropolis!
DAY 2 Delos, Mykonos, Greece
After delicious breakfast, you will head to Mykonos but there will be an opportunity for an optional morning tour to the archaeological site of Delos. On the way to the port of Tourlos in Mykonos, you will get an opportunity to jump in and swim in the warm beautiful sea. After swimming stop, a  lunch will be prepared by your Chef and you can truly expect the freshest food infused by herbs and spices. After lunch, you'll get a free afternoon and evening to enjoy the beauty and lifestyle of the islands. Watch the sunset that reflects all the golden tones and hues of the sea and the white-washed houses, chapels and windmills of Mykonos. It will be a picture-perfect view.! As the night comes, after the delicious dinner you can explore islands streets on cliffs above the sea until the next adventure.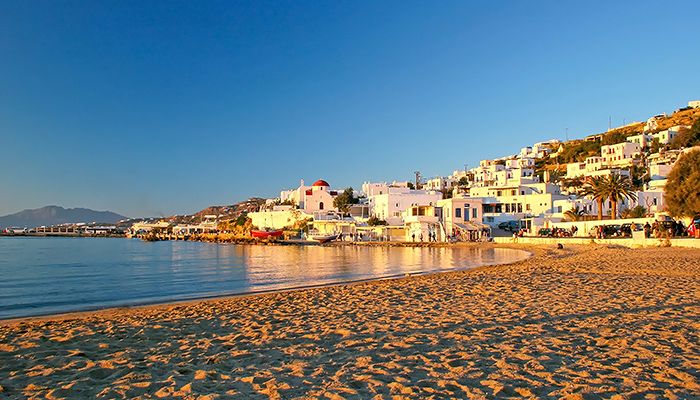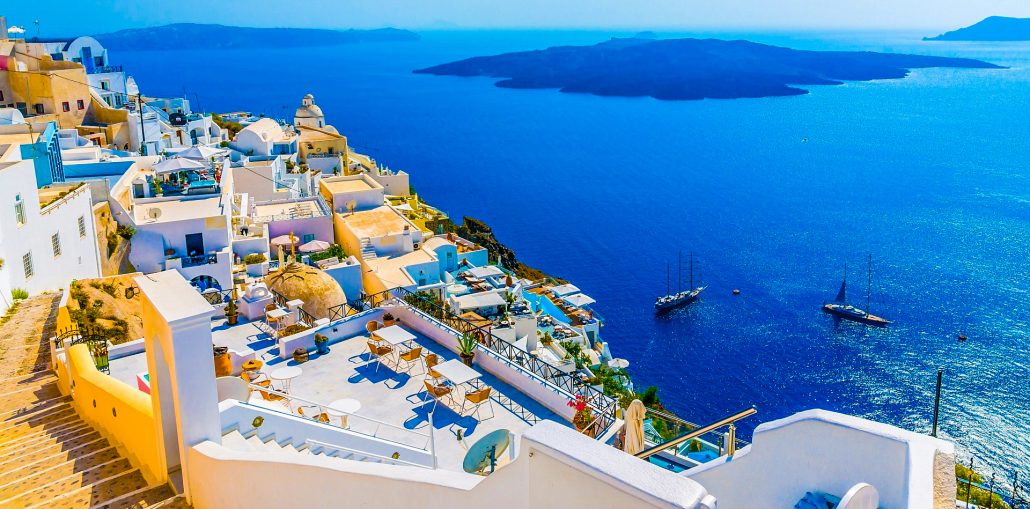 DAY 3 Santorini
After appetizing breakfast full of fresh fruits and all the thing that will get you energized and ready for the new day you will head to Santorini.
This place is probably the first place that comes to your mind when hearing about Greece. But did you know that this magical place was created by collapsed crater back in the 16th century?
Well, here you can experience the stunning unique volcanic landscapes, multihued volcanic beaches and beautiful views of the Aegean sea and more!
Upon arriving you will have lunch on board.
After lunch, you can if you please go on wine tours, visit stunning villages and snow-white houses mixed with blue domes of churches.
And of course, we cannot forget about the sunset!
When the sun sets the fire-red and orange glow reflects on the steep cliffs and snow-white buildings a true masterpiece image is created.
Dinner will wait on you on your ship prepared by your Chef on board.
Ater that, your Captain will lead you on an overnight sail to Crete while you sleep on tightly.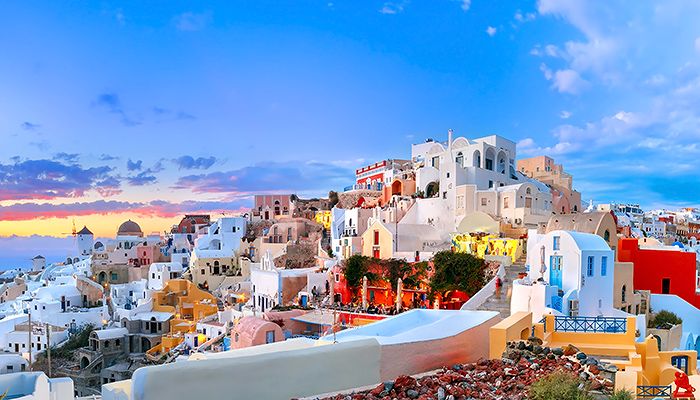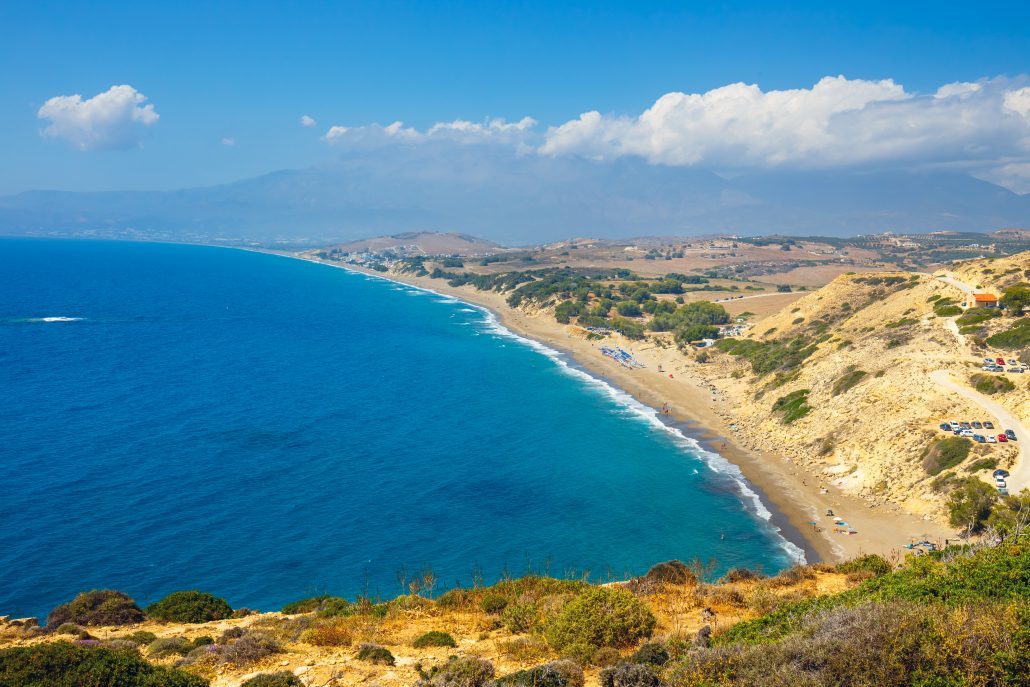 DAY 4 Crete Rethymnon
Morning arrival will be at Crete's famous and lively port of Rethymnon.
Firstly you will be enjoying a cup of coffee or a tea followed by delicious appetizing breakfast.
After such morning ritual with the best view, you'll have an optional tour to the ancient city of Knossos near Heraklion. Explore the mysterious labyrinthine ruins whereas the legends say, the monstrous Minotaur, a half-man half-bull creature lived.
You can also choose to visit some of the beautiful white sand beaches and soak up the sun, read a book and simply unwind. At night time dinner will be prepared and served, and after you'll have a late departure for Kythira. Overnight at sea.
DAY 5 Kythira island
Why not skip traditional morning shower and just jump in the sea instead? There are no rules! After breakfast, you'll have a swim stop so take this opportunity to have fun and don't forget to test out amazing water toys! Such productive morning and loads of fun in the sea make people hungry. But don't despair since your Chef and crew will serve the tasty dishes with food that will please even the toughest crowds. In afternoon you'll arrive in Kythira. Even though it is not big hot spot as Santorini his beauty is being more and more appreciated by the visitors in Greece for its beauty and peaceful atmosphere. Visit one of the most beautiful beaches, we recommend the stunning Beach Canal that is like paradise on earth. Late afternoon you can use to explore the picturesque town. The overnight stay also will be at the Kythira.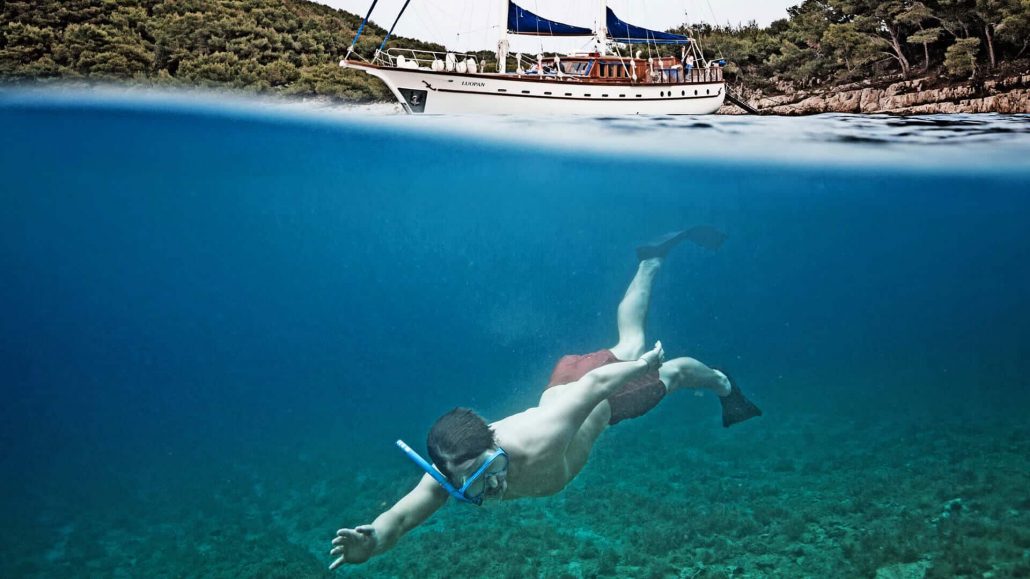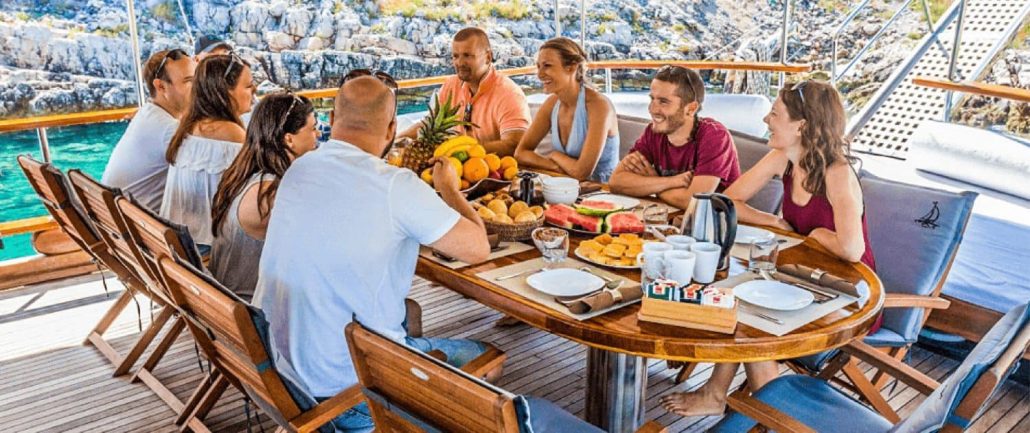 DAY 6 Monemvassia | Nafplion
After delightful early morning breakfast accompanied with morning coffee and relaxation under the shade of the boat, Captain will lead you to Monemvasia.
This is a remarkable hidden medieval 'Fortress Town' and its name translated means "single entrance".
You'll have time to explore the preserved Byzantine and Venetian architecture and experience the traditional life of the local people.
The beauty of this place will leave you amazed!
After lunch, you'll depart for Nafplion, with a swim stop on the way.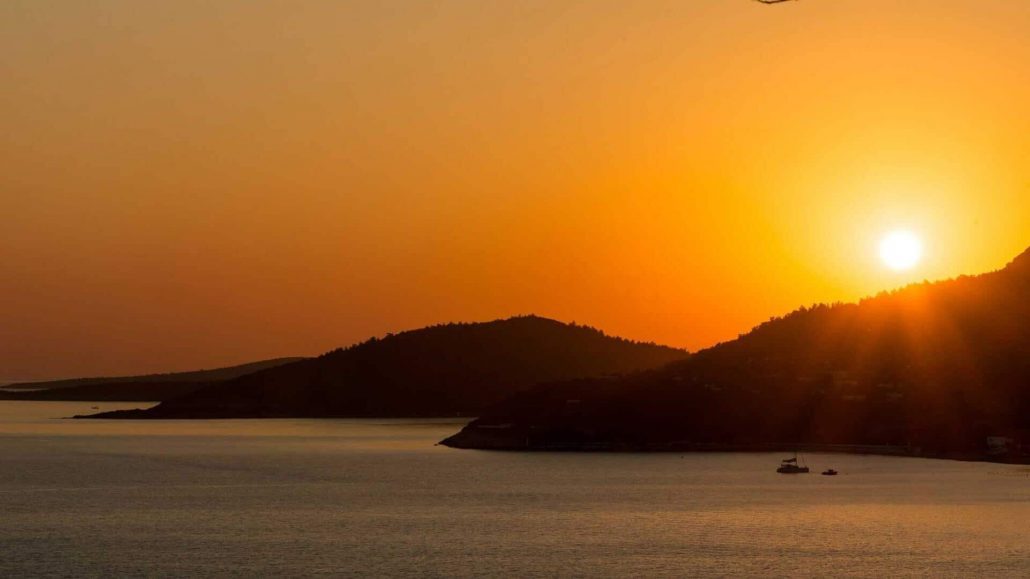 Around evening time you'll arrive at Nafpilo seaport town in the Peloponnese.
Discover dream trails that lead to gorgeous medieval Old Town center with its charming narrow streets and historic buildings.
Also, worth of the visit is impressive medieval Palamidi Castle with 999 steps.
So get ready for a decent workout but we promise that the payout once you reach the top will be good!
After the active day, you can relax on a ship along with beautifully served dinner. You will spend a night anchored in Nafplion.
DAY 7 Nafplion | Hydra
After the morning breakfast, you will have an optional tour to Mycenae, the walled fortress of Agamemnon. This is truly an impressive historic Fortress from the Bronze age. The site is framed with intact lion gates, burial sites, cave, and epic views.
Of course, don't forget the Kings Tomb down the hill. In early afternoon after the first stop, you will depart for the islands of Hydra. This time you can use for relaxing on the deck, reading a book, or whatever else you please to do.
You will have enough of time for leisure and adventurous exploration of this picturesque town since you will stay here overnight. If you please you can experience the great nightlife Hydra offers, we recommend a place called "Amalour". When you get tired to head back at the peaceful port and rest on your ship.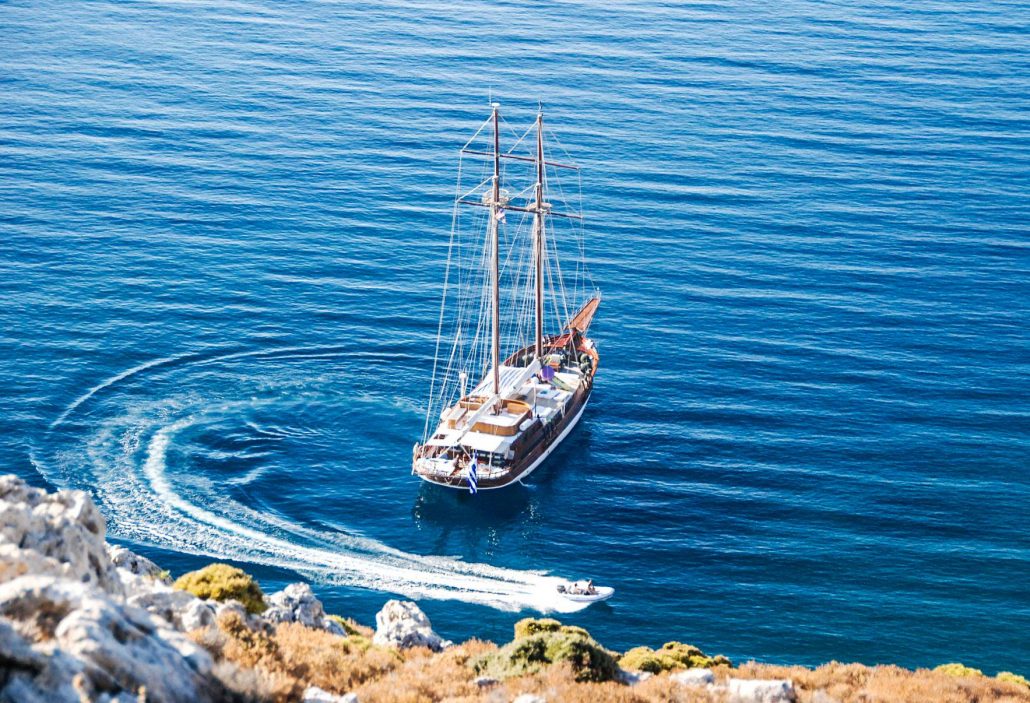 DAY 8 Athens
This is the last day of your cruise as you'll head back to the Athens. Now you can come back home with great experiences and even greater memories! After breakfast, you can say goodbyes to your beloved crew and Captain and head back home until the next time.
Enjoy the most beautiful sunsets in the world that look like a photo from the postcard
Stay active and have fun with diverse water toys
Do a swim first thing in a morning, or whenever you please like it
Explore the towns, villages, nature parks, islands, and more
Don't shy away from meeting new people and locals!
Read your favourite book you haven't had a chance to finish
Go hiking, cycling or spend a day sunbathing on the beach
Stays anchored on the ship and enjoy in local food and amazing drinks with good company
Go partying and discover islands nightlife
Rest and sleep, regain your strength and then do it all again!
Have the best holidays of your life in magical Greece
After getting to know the sample itinerary, learning about the destination and things you could do an on a gulet cruise, let's start brainstorming together some ideas! Send us an inquiry and get free assistance from our gulet cruise expert. We will carefully listen and gather your wishes so we can help you in finding the perfect gulet and provide you with the best Greek cruise experience. Start planning and get your hand-crafted tailor-made itinerary packed with the best deal possible.