Gulet Cruise Food
Food and Beverage Guide
Gulets and Food – What is the connection?
When you charter a Gulet you also get a chef that prepares your food. Culinary experience on a gulet is always special and is one of the most important things on your holiday.
Every time you sit in front of your table, it should be a memorable and enjoyable experience.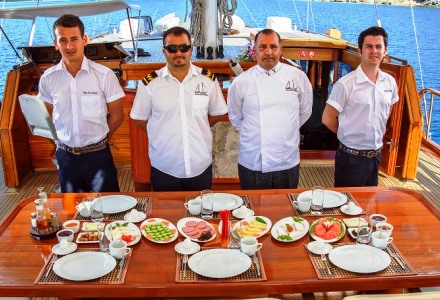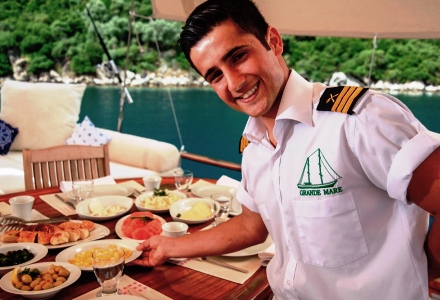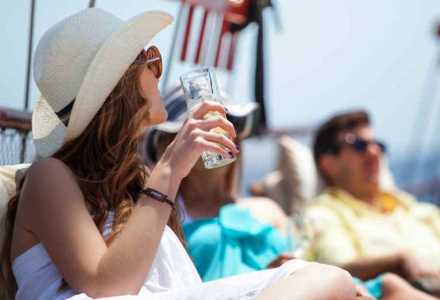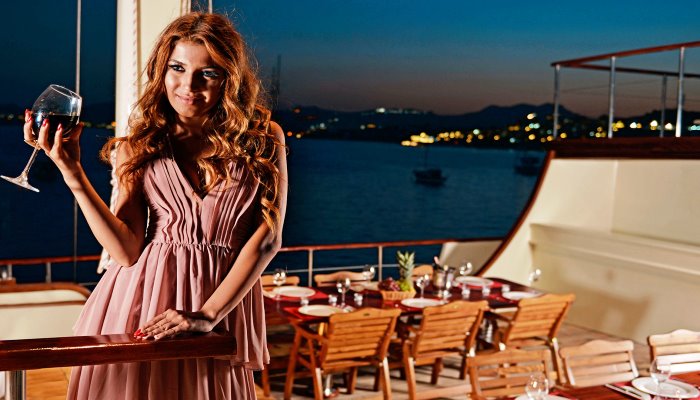 Will you be hungry on your cruise?
If you are hungry on your cruise it will be because of only two reasons:
Because you got into a fight with your spouse, and you are not eating is a form of protest
Your local agent tried to save money on food and did not stock the gulet in a way they should have.
We always prevent reason no.2 in advance with good planning. For no.1 unfortunately we can not help you.
How is food organized on Gulets?
You have different menu categories and options you can choose from. You will not be hungry, no matter which menu you select. The main difference is in the variety, quality, and service of food.
More luxurious menus also contain more fish, and more cold dishes and appetizers, as well as bigger and better salad portions. You can book an economy gulet with a VIP menu, however, you cannot book a VIP gulet and choose a low budget menu.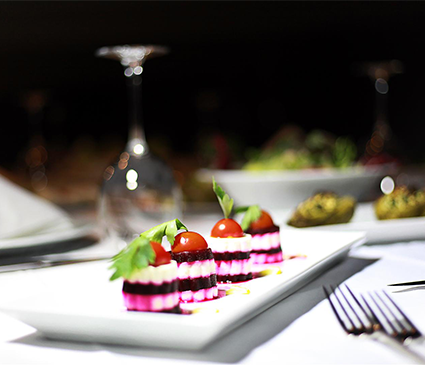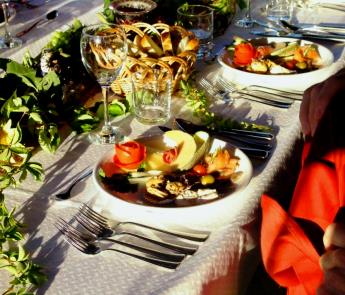 Start planning your gulet cruise
Send inquiry and let the gulet expert help you organizing the best cruise holiday of your life.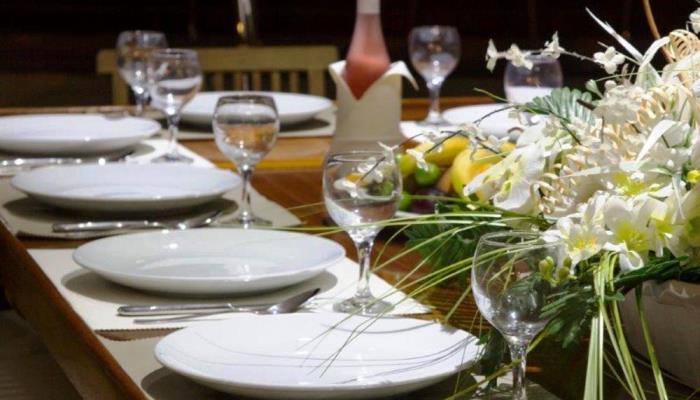 What is Standard – Economy menu?
An economy menu is standard food, where you will enjoy nice food and when you will surely not be hungry. It is comprised of hot or cold dishes, main courses with a side dish, and some fruit or dessert.
Expect fish to be served once or twice a week. Economy menus cost from 210 to 280 € per person per week depending on where you book your gulet (which destination).
How is the luxury menu better?
The luxury menu has a bigger variety of food. You have more appetisers and different options for side dishes. You also get more fish meals and you have more variety with breakfast.
With a Luxury menu it is not only about "killing the hunger" but it is more about the enjoyment and experience that eating provides you.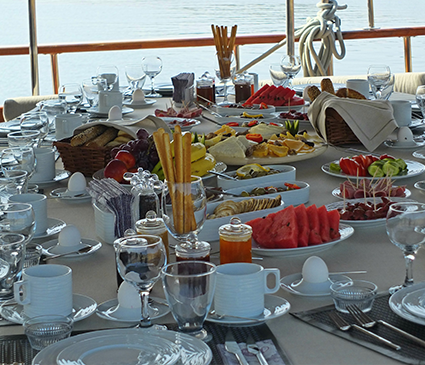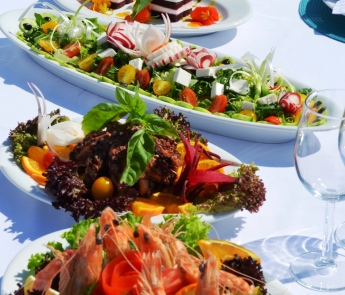 Get the perfect gulet from Croatia for you
Send us your wishes and get free assistance from our cruising expert.
Main things about deluxe food on gulets.
The deluxe menu is for gourmets that like to enjoy life and food to the fullest. The table is full of different portions and also prepared in a way you will remember it for a long time.
VIP food menus are all about a culinary experience that fits incredibly well with the scenery and comfort gulets can provide you with.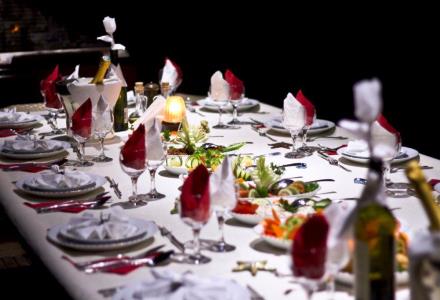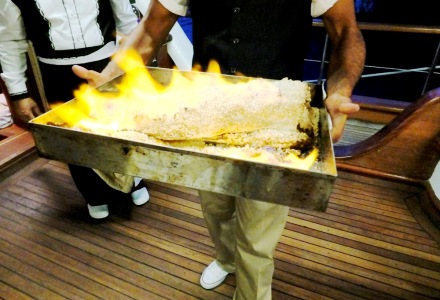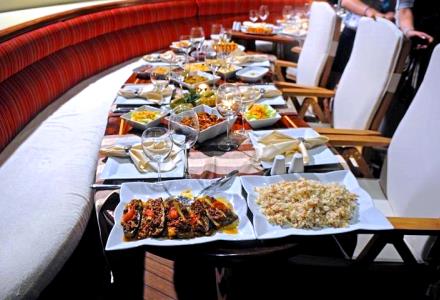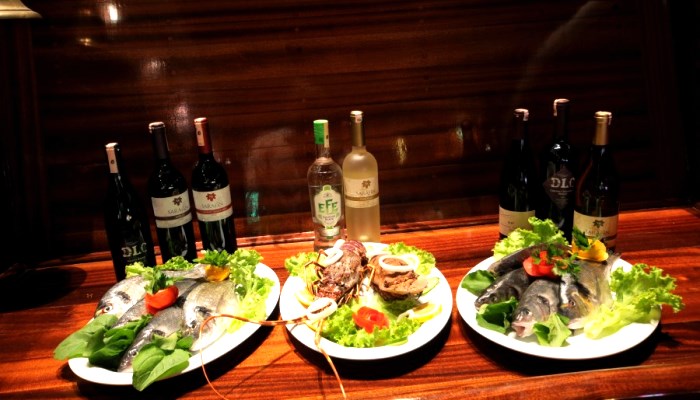 Menu Examples
Each gulet is a different story and the food on your cruise is a combination of:
a) Experience and knowledge of the chef
b) The budget you set up for food
When you book a gulet, always ask for menu examples. Always aim for quality and never save money on this.
Same menu – different experience. Is it possible?
It is not only on the menu you choose, it is also about the chef you will have on your gulet as stated above. You can have two chefs with the same food ingredients, but one chef will cook food that is out of this world, while the other will serve food which will be okay, but nothing special.
On most of the gulets (especially on VIP gulets), chefs are world class experts and they know what they are doing. But this is always good to double check before you book your gulet.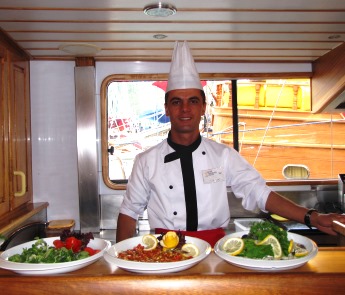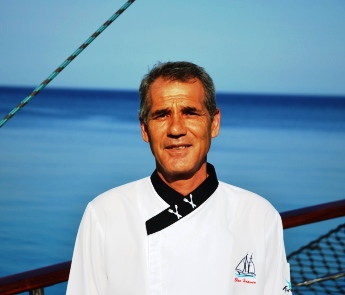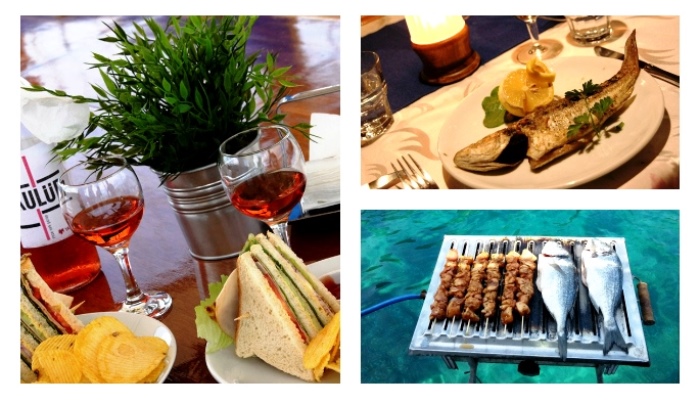 When do you eat?
One of the best things about gulet cruises is that everything is flexible, so food can also be organized in a way you like it most. Most of the time breakfast is served from around 9-10am. Lunches are served when you arrive to the next bay and after you have had a good swim.
In high season when it is very hot, lunches can be "lighter" and they are served around 1pm. At 5pm most of the gulets serve tea and coffee with some light snacks. Dinners (especially on VIP menus) can last for several hours, starting around 9pm until 11pm or even longer.
Where do you eat on gulets?
You eat on the back end of the gulet, always in the shade and overlooking the sea and other nice locations and bays. Meals are always lots of fun, especially when the entire group gets together, enjoying food and cold drinks and making plans for that coming day or the following one.
Food is almost never served in the salon. This happens only if the weather is terribly bad.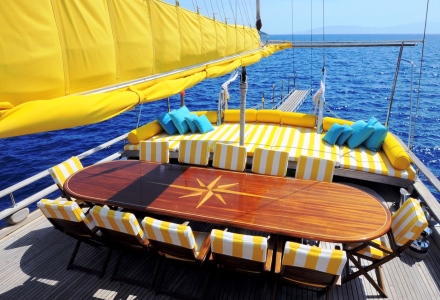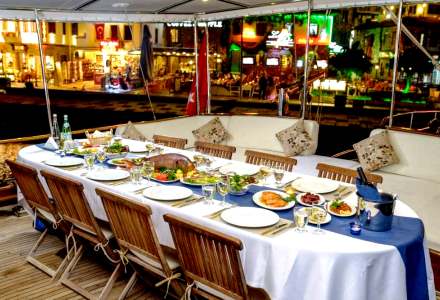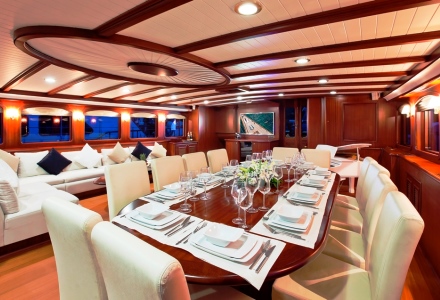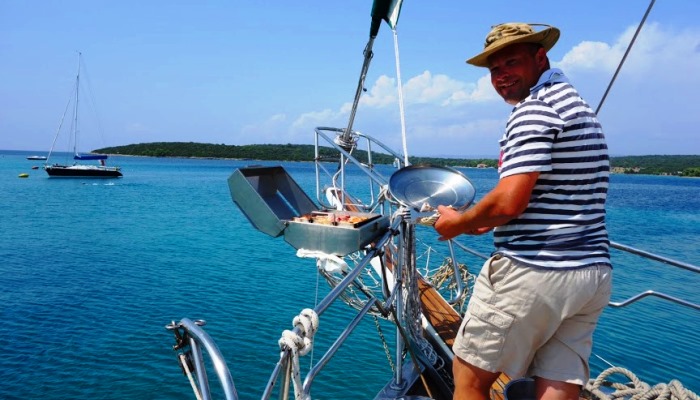 Is there flexibility when it comes to food organizations?
4 weeks before you embark on your gulet you will get a document called "preference list". Inside these documents you state any preferences you have about breakfast, lunch, or dinner. You can state food allergies or strong dislikes or if you have children, you can also let the crew know to prepare something more basic for them.
You can also note if some people do not like fish, are vegetarians, or have any other ideas or suggestions. The menu can then be tailored according to your wishes.
What is Half Board? What is Full Board?
Half board means you only have 2 meals per day. One is breakfast, while the other can be flexible. Usually you have breakfast and lunch, so you can swim and relax during the day, while in the evening you visit some nice port and go eat to one of many local restaurants.
Full board means you have all 3 meals on board of a gulet: breakfast, lunch and dinner.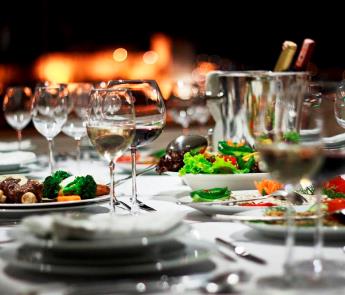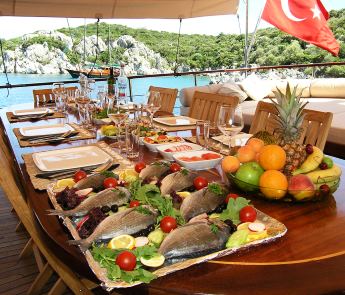 Get the perfect gulet from Turkey for you
Send us your wishes and get free assistance from our cruising expert.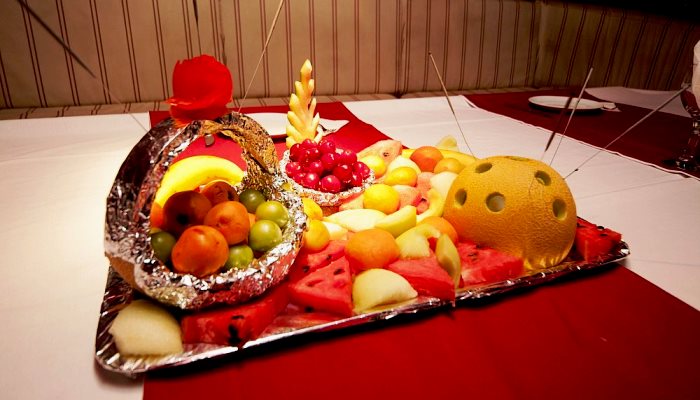 Cost calculation – Pay the bill for food only.
If you wish to have complete control over your meals and food they serve you, it is also possible to determine the food you wish to have on board. The crew will buy the food in the supermarket and prepare the meals according to this list. In this case, you need to also cover the food expenses for the crew. This is also called APA (Advanced provision allowance and not all of the gulets offer this possibility).
You can say a bit of money with this system, but it takes more effort when it comes to food planning.
Advice when it comes to food – Don't save money
If you are on a budget we always recommend to book a 3-star gulet and choose 4-star food, rather than the other way around.
5 years after your cruise you will not remember the cabin where you slept. But you will remember the food you had. Never save money on food.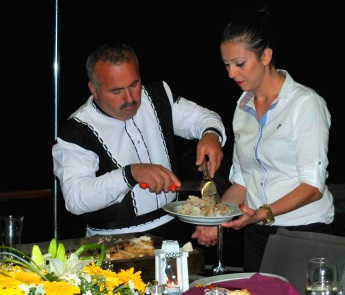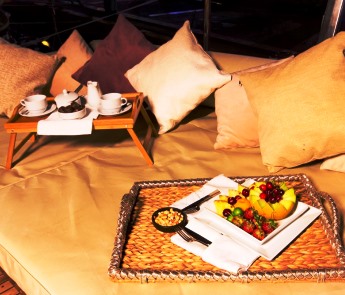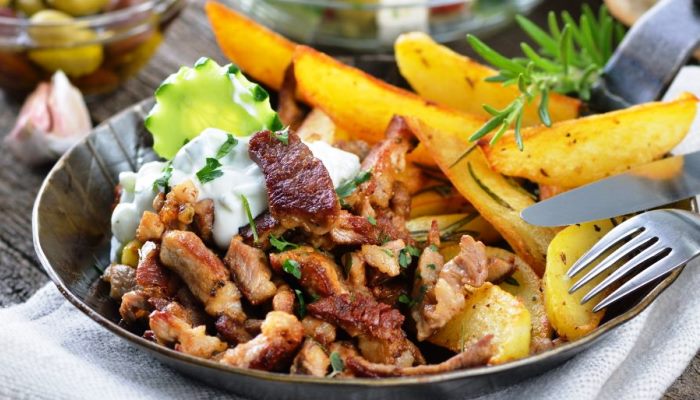 Why are food prices so different from gulet to gulet?
The food you will eat on gulets is organised from local operators or individually by a gulet owner. Different companies and different owners use different supermarkets, different distributors, and have different concepts. That is why there is no "generalised" name for food menus and no general categorization and prices can warry a lot.
We will always help you double check the quality of food each provider offers and make sure you get what you paid for. Always ask for menu examples before you book your gulet.
Beverage Organizations
If you rent a gulet you can either bring your own drinks with you, buy from ships bar or take an "all inclusive" option. All gulets do not provide all the options and sometimes you need to pay corkage fee in order to bring own drinks on board.
With proper organization, buy should never run out of your favorite drinks.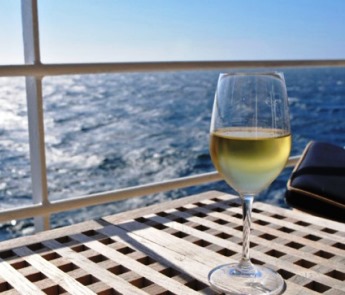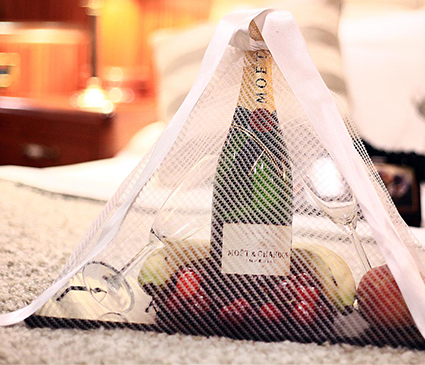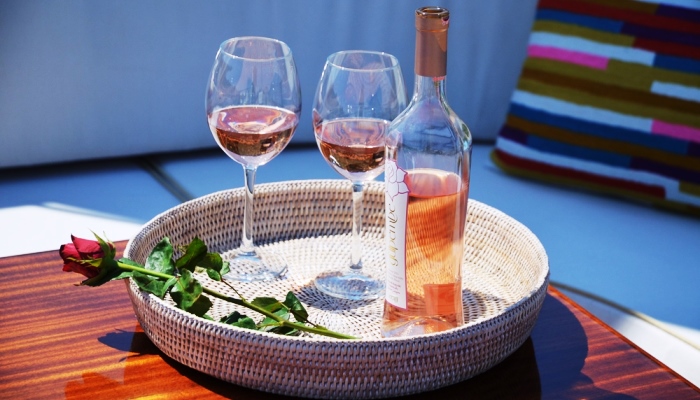 Drinks – We can do the shopping for you.
When you decide you will bring your own drinks, we can also stock the bar according to your preferences.  You will provide us with a list of drinks you would like to have on a gulet and we will do the shopping for you. You will just cover the supermarket expenses.
This is not possible on all gulets, so you have to note you are interested in this service in advance.
What is APA?
APA is advanced provisioning allowance. This means you pay 20% or 30% extra on top of your charter price. The crew gets this money and they cover food, drinks, and any additional trips or costs you might have.
At the end the list of expenses is presented to you and if the amount goes over this, you pay extra. If you spend less money, you get the difference back or leave it to the crew for tips. This is very popular on VIP and luxury gulets.
gulets to charter – hall of fame
Our Picks of Gulets that deserve special attention.