How to Explain Croatia Cruises to Your Grandparents
Croatia has been praised over and over again for its scenic beauty and her popularity is still increasing which means travelling and cruising there is now easier than ever before. This country truly offers a wide range of things to see, places to visit,towns, islands, many activities for all age groups! This is one of the reasons why Croatia cruise is such a popular destination of our clients. This cruise is suitable for families with kids, seniors, couples, party lovers, nature lover, adrenalin junkies, food hedonists, etc. To summarise, Croatia is a place with many qualities that everyone can appreciate. We gathered some highlights why Croatia cruises are good for all generations.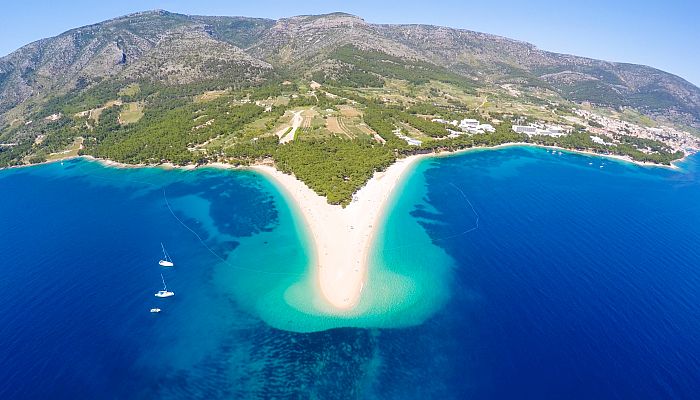 2. Beautiful bays and beaches
Croatia has a long coastline that is scattered with more than a thousand islands so it's no surprise that Croatia has a countless number of beautiful beaches and bays. If you are seeking for a relaxing and peaceful atmosphere there are bays that your Captain could lead you to where you could rejuvenate and unwind. Beach lovers will be especially delighted in Croatia since there are plenty of amazing pebble and sand beaches. If you are cruising to Dubrovnik visit a small St Jacobs beach tucked into the Cliffside near the harbour. When visiting the Island of Brač is you must visit the most popular and praised beach called Zlatni Rat in Bol. If you are more of a party person who adores beach clubs then island Hvar will be your top destination. Beach clubs offer stunning views that peek out of pine trees.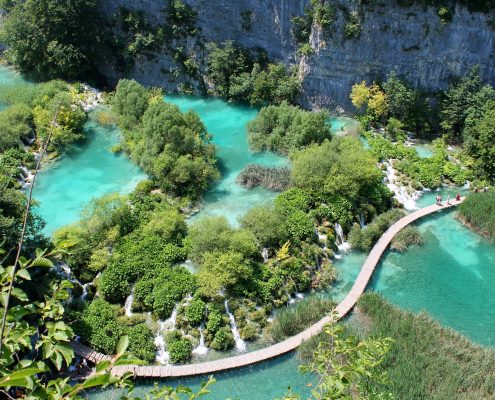 Plitvice Lakes National Park is known for its lakes, hiking trails, beautiful alpine forests, waterfalls.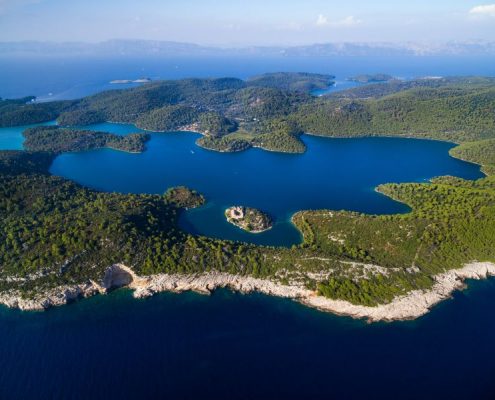 Mljet island in Croatia and National Park is also known as the greenest island of Croatia with the unspoilt nature offering tranquillity and peaceful atmosphere.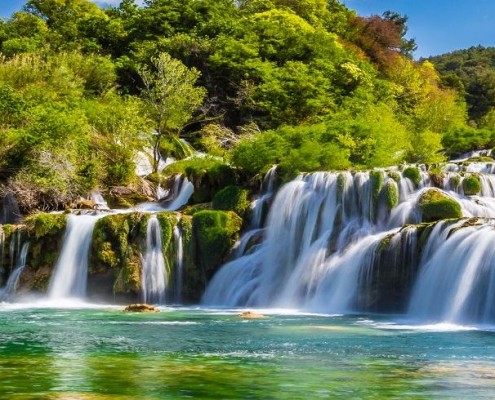 Krka National Park- A national park in Croatia a nature reserve is known for its walking trails, waterfalls & riverboat trips, plus monastic & castle ruins. & caves.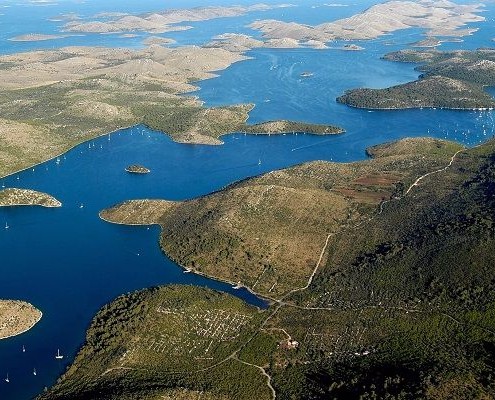 The Kornati archipelago of Croatia is 35 kilometres long and has large and small 89 islands. You can enjoy a relaxing nature, clear water and hidden places.

4. Archaeological sites
Croatia has a rich culture and historical heritage and displays more than 2,000 years of history, from Istria to Dalmatia. Some of those historic remains are located in museums but much more is preserved in exterior where it was originally built. Even if you aren't a history enthusiast you will still be amazed by the beauty of these monumental places.
Diocletian's Palace, Split
Very accessible of Croatia's historic ruins is the Diocletian's Palace in Split. Every day, thousands of people local and tourist walk through its main square of Peristil and Split Cathedral. What is even more special about this place is the fact inside the walls and structure of palace the town grew and spread, so inside the walls local people are living, there are also restaurateurs, hoteliers and bars.
Dubrovnik City Walls
City Walls of Dubrovnik are protected by UNESCO and are a magnificent monumental sight you can't miss.
Walls can be explored and strolled around as part of walking tours. On your exploration, you will come across historic architecture dating from Gothic, Renaissance and Baroque periods.
Aside from that, there are other historic places left behind such as palaces, fountains, monasteries and churches.
Pula Amphitheatre
Roman Amphitheatre located right in the centre of Pula with an outer ring of a wall still intact. Overlooking the Adriatic sea it provides beautiful views and scenic setting for cultural happenings and festivals.
Zadar, Roman forum
Zadar was a Roman colony so it has Roman city walls, baths, an amphitheatre, an aqueduct and streets in orderly straight lines, centrepiece by the main square: the Forum.1000 years later, remains of Roman landmarks were used to construct present-day in the Middle Ages.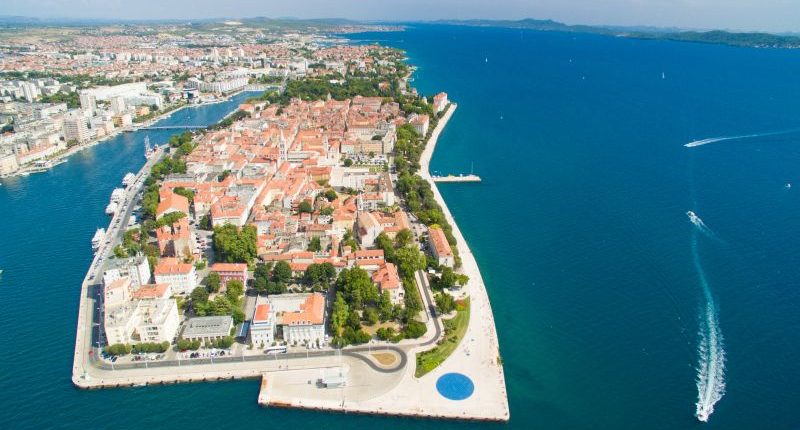 5. Beautiful cities
The beauty of Croatian cities will amaze you and since pictures often speak better than 1000 words here are some honourable mentions of cities you can visit during the Croatia cruise;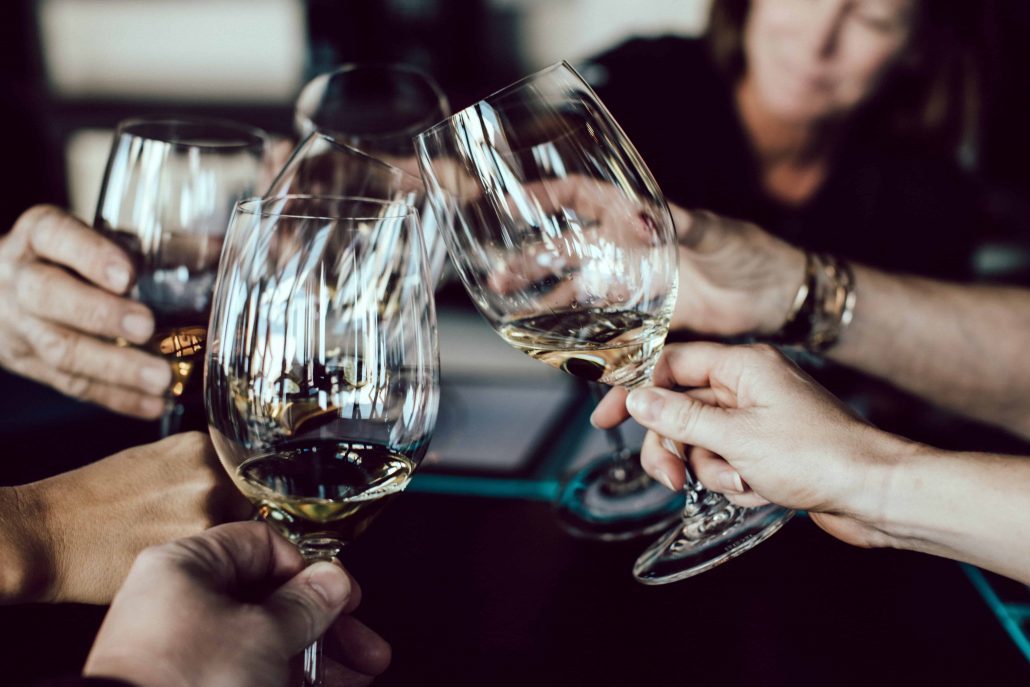 8. Croatian wines
Croatian wines are hidden gems that still haven't been recognized enough in the world as they deserve to be.
These wines offer such a wide range of tastes and are very diverse. Be prepared that you will have to drink a lot and eat a lot because that is how generous Croatians are.
They can't handle the thought of guest staying hungry or dissatisfied.
Not to mention Croatians are very friendly people who are proud of their wine and they always love to share a glass or two with even complete strangers. Take part in some wine tours on islands or coastal towns and visit old vineyards.
This is a great activity for couples, wine lovers and seniors.


9. Activities

Gulet cruise in Croatia offers a wide range of activities for its guests on board so you don't have to fear you, your group or kids will get bored. Once you step off the boats as you could read from the previous text, there really is a lot to explore and places to enjoy no matter what age you are.
Some onboard activities on gulet are:
Finish reading your favourite book
Enjoy sunbathing!
Relax in Jacuzzi during the day or have a romantic night!
Go partying on land or on a boat!
Experience the most beautiful sunsets in the world
Do a swim first thing in a morning, or go snorkelling or enjoy in water sports in crystal clear sea
Stay on the anchor, relax and enjoy in local food and amazing wine!
For more details on how the days on gulet really look like, click here.
Gulet Experts Team Can Help You
Our team of gulet experts will assist you in finding the best gulet for you and your group!