Gulets for charter in Croatia 2018
If you want to experience coastal paradise first hand, endless sun kisses, swimming in the clear sapphire sea, and hide in the shade of ancient towns that breathe history… then Croatia is the best place for your gulet cruise! From sun-kissed beaches, crystal clear sea with rich marine life, islands, small villages to historic towns and beyond appetizing local food this is a perfect Mediterranean holiday for you! Croatia has 1244 islands, isles & reefs and nearly 2000 km long coastline! So a question like this might pop up; what is the best way to see all of this beauty? Our answer is without a doubt; by gulets to have the most unique holiday of your life! In this post, you'll find the selection of the best & finest gulets to charter in Croatia. Every gulet tells its own story and has its own perks, so I'm sure you'll find one perfect for you and your group! Let start!
GULETS SELECTION FOR CHARTER IN CROATIA:
1. MASKE
First on our list with no particular order is beautiful gulet Maske built back in 2014!
This gulet is in the impeccable state due to the fact that his owners give a lot of attention to the boat maintenance. It's nearly 28m long, has 5 well-equipped cabins that can accommodate up to 10 guests.  This makes Maske a perfect gulet for expanded families or a bit larger groups in general.
If you are maybe looking for luxury sailing experience during your cruise than I have good news for you…
Maske has full-fledged sail equipment that is made in a way that it ensures a joyful sailing! Also, you won't be bored on this gulet, even though possibilities are endless when it comes to thing to do on gulets, Maske is well equipped with water toys. You will be able to find: Jet ski, Water ski, Paddleboard, canoe… A bit more technical detail but also very nice detail is the freshwater system at Maske that provides water for extended period of cruising in the open sea without having to call a port.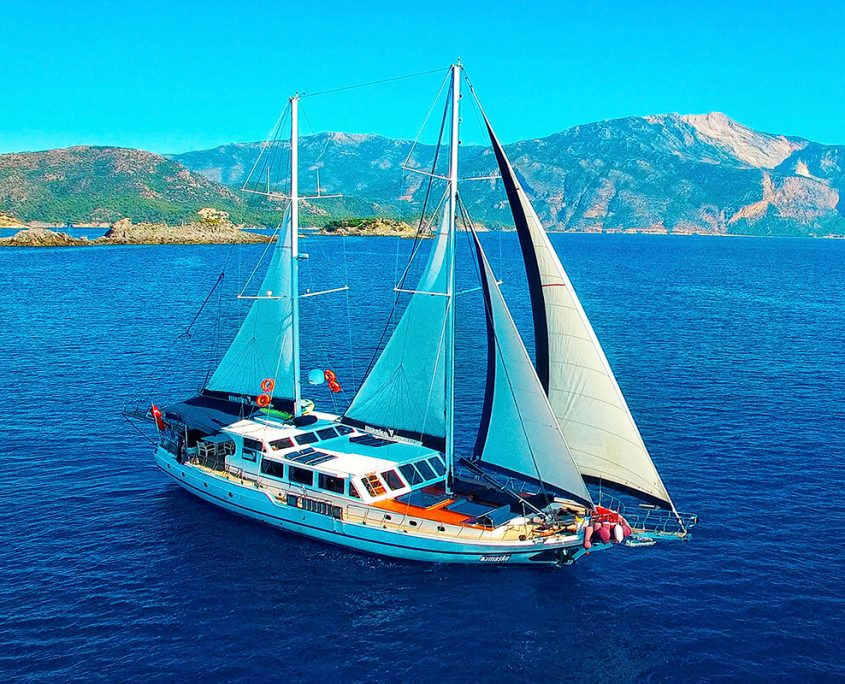 LIFE IS GOOD!
Send inquiry and the gulet expert team will help you in organizing the best stress-free holiday of your life!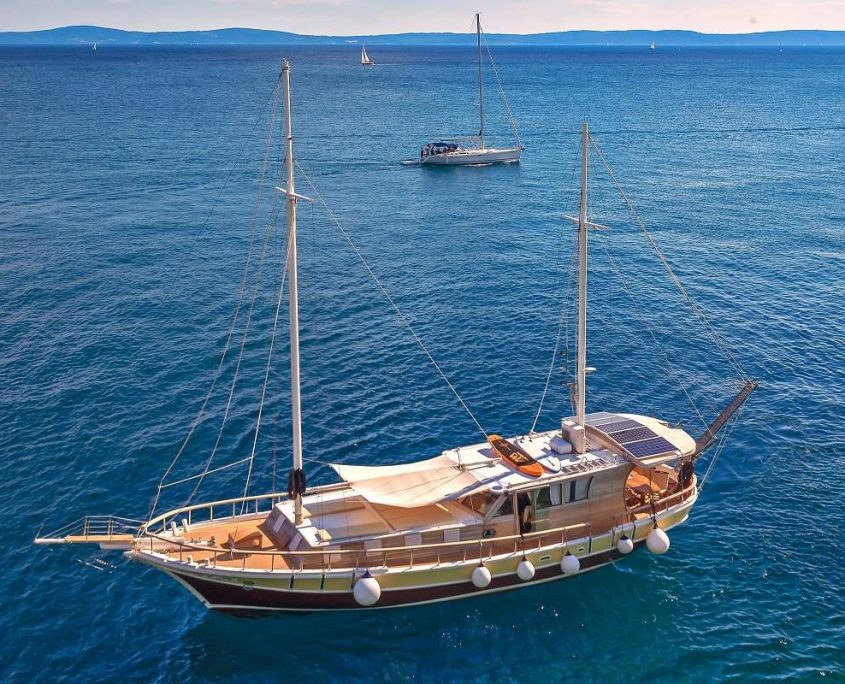 2. SEDNA
Second on our list is luxury gulet Sedena, a gulet that is a bit smaller in size than previous one.
However, it's still perfect and very luxurious gulet for a cruise around Croatia islands. Here's why!
Sedena is luxury gulet that is nearly 22 meters long, and it has nicely designed 3 cabins that provide comfort and everything you would need during your cruise.
It can accommodate up to 7 guests, which makes this gulet perfect option for smaller group or one family.
Back in 2017 exterior was refitted and we can definitely say that in this case a high standard and luxury can come in small packages!
One thing is 100% guaranteed, and that is the fact you'll have a great & unforgettable experience!
3. Kadena
Gulet Kadena is third on to come, and it's the largest gulet from the two we mentioned so far. This gulet has spacious 32 meters in length and 6 nicely decorated and comfortable cabins, from which one is an amazing large master cabin! Gulet can accommodate up to 12 gulets with no problem.
Regular maintenance of the boat gives Kadena its good impeccable looks, which gives guests a lot of satisfaction, and makes them, want to return. One more thing that makes guest very happy is quality of served food! Food and dishes on Kadena are without a doubt amazing and you can expect nothing but fresh local quality ingredients full of aroma!
But it doesn't stop there, you are guaranteed with perfect service on board, because same experienced crew worked on this gulet for many years. A conclusion is, you won't be disappointed on Kadena!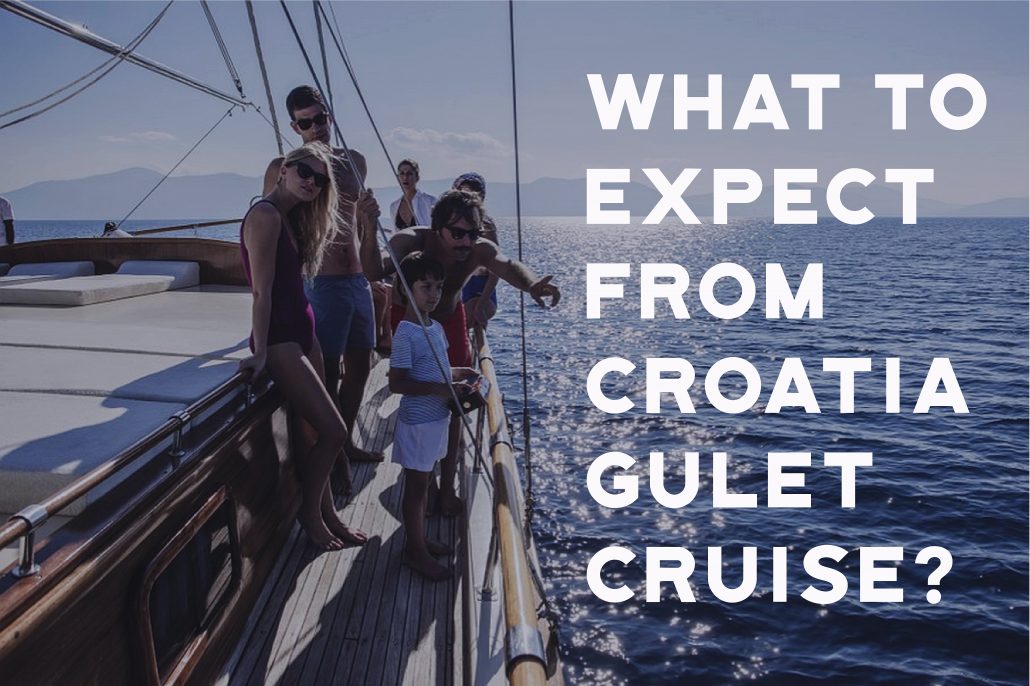 Here are some additional things you should know:
As I've mentioned earlier, there are over 1,200 islands to explore. Selecting the correct itinerary & program is crucial for the best holiday you can experience! There are 50+ gulets to choose from. Each of those gulet tells its own story, has its own crew, and strengths (as well as its weaknesses). Our main idea is that once you step your foot in gulet you've chosen, we want you to be able to say "Life is good".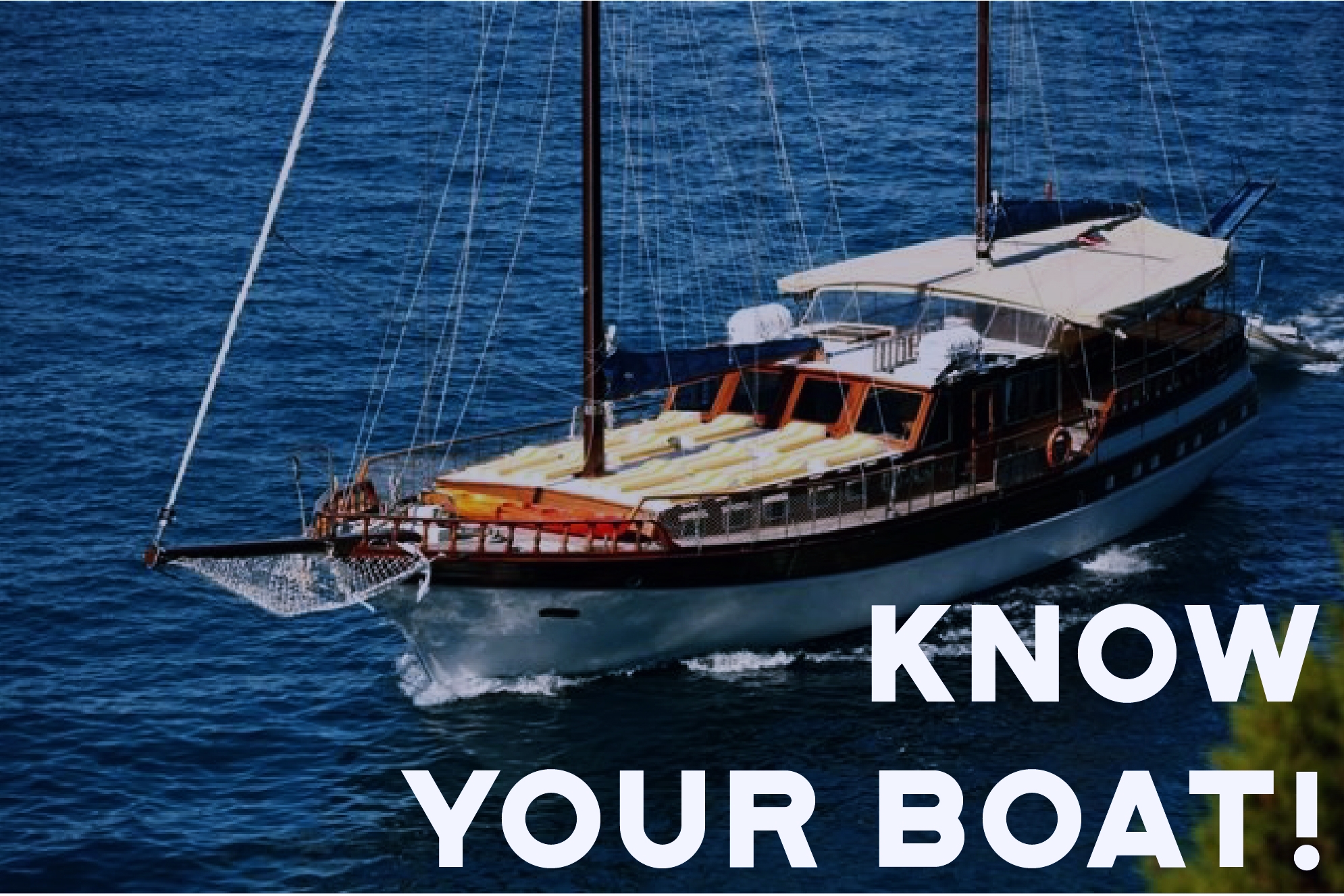 Let's be honest, every time you plan to invest your money into something, you have to have at least a general idea of what you are doing and where your money goes. So here are some technical and interesting facts about these lovely sailing vessels.
So what exactly is gulet?
Gulet is traditional mostly wooden sailing vessel with the average size that can vary from 20-55 meters in size. Which is pretty big, don't you think? They also consist of 5 and up to 8 cabins and are all well-equipped (bed, shower, toilet, AC). Gulets usually cater for between 6-16 people (sometimes more) and spend their time visiting towns, bays and interesting places every day. Sounds too good to be true, I know!
Renting a gulet can be quite tiresome simply because of the fact that it's difficult to decide which gulet suits your needs the best. But don't worry; our sales experts put a lot of energy into successfully matching your holiday expectations with the correct gulet and crew.
You can choose from 3 main categories (Standard, Luxury, and Deluxe) but don't be fooled by the names because all of them are coming with a very professional crew which will ensure you with most comfortable, relaxing and a luxurious atmosphere.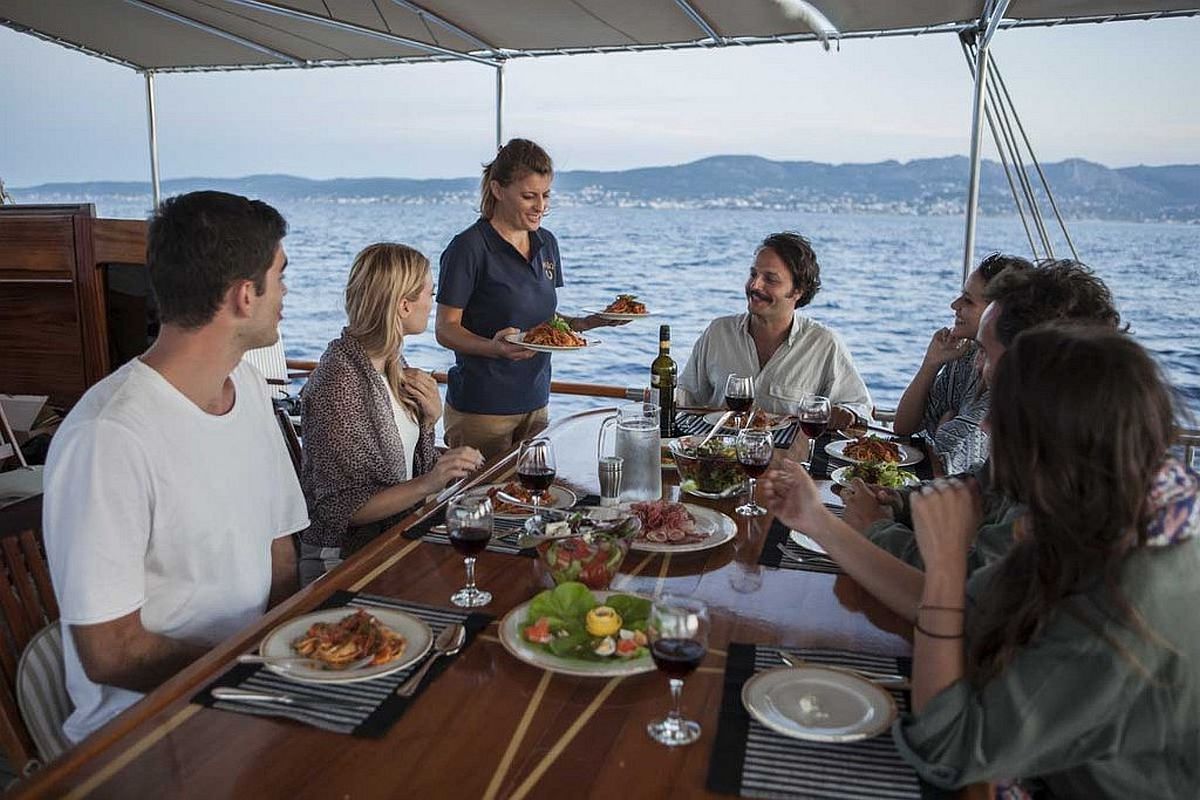 Past experience with our clients taught us that the percentage of discount is related to the percentage of complaints! After such disappointing experience, we decided – NO MORE! We strongly advise that you give us your approximate budget to get the best possible deal. We believe that when on holiday, you should concentrate on getting more for your money, instead of being focused on saving money!
The prices for gulets are usually around 1,000 euros per person per week, but the price can vary regarding:
CRUISE TYPE: If you book only one cabin or rent an entire gulet
TRAVEL DATES: If you travel in high season (July, August) the price is highest. In middle season (June, September) and low season (May, October) prices are lower
QUALITY OF THE VESSEL: 5 and 6-star vessels cost much more than 3 or 4-star vessels
Learn more about prices, reviews and much more right now!
4. Where will you cruise in Croatia?
"Gulet Cruiser" is a person that loves adventure, hates to stay in one place all the time and prefers EPIC LOCATIONS over hotels. So knowing that planning on what to see during your cruise is crucial here! However, where you cruise strongly depends on your group wishes and structure.

Will you cruise north and explore beyond captivating incredible preserved nature parks, or maybe you will head south and stroll down through medieval old towns such as Hvar and Dubrovnik that are like the open-air gallery of architecture, history, and culture? Well that's up to you to decide…
5. What can you do on gulets?
Possibilities when it comes to activities on gulets are truly endless and once more they depend on your personal preferences. 5 weeks before your cruise, you are assigned with personal assistant, who will advise you on all possibilities.
"To do list":
Enjoy the most beautiful sunsets in the world
Do a swim first thing in a morning, or go snorkeling or enjoy in water sports in crystal clear ocean that is safe (no sharks or other dangers)
Meet the locals, explore medieval towns and small villages, pots, nature parks, history cruises etc.
Stay on the anchor and enjoy your enjoy in local food and amazing drinks with your friends or family under the starry sky
Go hiking, enjoy sunbathing (but don't forget on important SPF) J
Enjoying a good book and glass of Croatian wine
Go partying
Sleeping…
6. What is the best way to book a gulet? Where do I start?
Don't rush! Before asking for any deals and offers you should know what you want and what do you expect. You have to determine and be aware of how big your budget is and how much you are willing to spend and also with whom you wish to travel. And last but not the least; decide to which beautiful destination you want to travel to? For us, it's important to know your preferences!
Then ask for deals. Tell to your agency:
The dates when you wish to travel and how flexible you are
How many people are in your group
Which destination(s) are you interested in
What is your preference (Nature or town exploring?)
If possible, also state your budget at least approximately
Get the perfect gulet from Croatia for you
Send us your wishes and get free assistance from our cruising expert.
Information about gulet cruise agencies
Agencies are not some kind of rip off as some tend to believe nowadays. You have to know that when you send us an inquiry, there are always at least SEVERAL DIFFERENT DEALS we can provide you with. It's also important to state that we are not the owners of gulets so we do not care which gulet you will end up booking, as long as we know the gulet owner will give great services and you are getting the best deal through our agency.
What does this mean for you? It means we have 5 or 10 gulets which potentially could be the right match for you. All of these gulets could give you amazing experience, but in order to get a booking, I have to think what's best for YOU.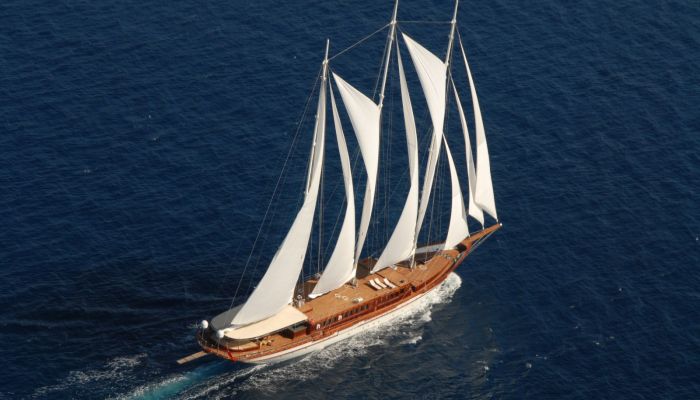 What happens once you get offers?
You check the offers and the information and if you have any questions ask as many as you can! If you start asking question once you are already on a gulet then, it is usually too late!
Also, if it happens that you are not content with the offers, let us know! Communication is important and there are always alternatives. We won't be happy until you are happy!
Gulet Experts Team Can Help
Our team of gulet experts will assist you in finding the best cruise for your group and they are here for you for any gulet cruise related inquiries.