Discover the authentic coastline and all of its gorgeous hidden gems like never before! Experience the natural, historical and cultural sights of one of the most gorgeous countries in the world on a luxury sail boat in Croatia. This luxury cruise offers you to experience to most in just a week, followed by great hospitality, amazing dishes, concierge services, the highest level of quality when it comes to comfort onboard.
Stick to the end and discover one of the luxury gulets that could accompany you on this unique journey and best sailing spots in Croatia!
SOME THE BEST LUXURY SAILING BOATS IN CROATIA
Corsario is an ultra-luxury yacht that guarantees luxury, elegance, and adventures in the Adriatic sea. With its 48 meters and 6 cabins, it can accommodate up to 12 guests in 6 cabins for a cruise. Each cabin is with private bath, flat screen TV, air conditioning, safe deposit box, Wi-Fi, audio surround system, interphone and room service is also available. Newly built luxury yacht for season 2019 has a nice mix of traditional tall ship exterior and modern interior designed with guests comfort in mind. It is a unique combination of luxury, elegance and high class that features numerous amenities and extraordinary gourmet experience onboard. The professional crew of 8 crew members will be at your disposal during the cruise for everything you might need. On deck, you'll find a spacious lounge area, dining area with large table, sauna room, jacuzzi, and sunbathing area.
Amazing luxury yacht Dalmatino from Croatia won the best value for money award. Dalmatino is a 44-meter luxury yacht that will be exclusively available in Croatia️ in season 2019! There will be 6 luxury spacious cabins for up to 12 guests. Along with beautiful interior, you will be able to find many amenities on board like for example a Jacuzzi on the flybridge for perfect relaxation. Very comfortable motor yacht is a great choice for the demanding guests, family holiday, friends or business meeting. It has a spacious interior, cabins, bathrooms, kitchen and living room, with plenty of space to sunbathing and children's play. It is without a doubt one of the best luxury boats for an amazing holiday in Croatia.
Rara Avis is a motor sailing yacht which was released in season 2018. It is one of the most luxurious newly built yachts in Croatia. When you observe Rara Avis, one of the first things that come to mind is respect. Respect for the tradition of the family who has been working in the nautical industry for several generations. For more than 70 years they have passed their knowledge and the results today speak for themselves. Luxury yacht Rara Avis rarely leaves someone unimpressed, you can relax in the jacuzzi on flybridge or on the cushioned area under the sun or shade. High-end service is nothing less but to be expected.
Luxury gulet yacht Lotus is 26-meter gulet yacht that has many stunning features. The boat is available for charter in gorgeous Croatia coastline! Lotus has 4 cabins (Master cabin, VIP cabin, Double cabin, and Twin cabin). for 8 people who can enjoy in comfort and style. She has a vast range of water sports and a beauty salon and cabins too that provide enough room for storage.ne of the main features of the gulets is cushioned area on Aft deck and flybridge. For daily fun and staying active on your cruise, you will find a vast choice of watersports.
BEST SAILING SPOTS IN CROATIA
DUBROVNIK

Dubrovnik is a must visit and place you will fall in love every time you visit it. It has rich cultural and historical heritage protected by UNESCO. Along with historic sites and charming streets you will find pristine nature and gorgeous blue sea. The town is also popular also due to the Game of Thrones series that were partially filmed here. impressive Old City Walls are also an attraction you should add to the list.
SPLIT

Town Split is a coastal town with 1700 years-long history and excellent location and good connection to the nearby islands. Town offers many attractions and activities to do from historic sights like Diocletian palace, main Square Peristil, and the cathedral of Patron Saint Duje, but also many entertainment attractions, recreational and leisure points. When the sun goes down you can blend in with locals on the main promenade, enjoy in a nice cocktail and the lively night in Old town of Split.
ZADAR

is the town that will capture you with its magical most colorful sunset you ever saw in your life. Built on Roman urban principles, the city was given a rectangular shape. Maybe the most magical installations you'll come across in Zadar is one-floor solar installation called "Greetings to the sun" that make the sunsets even more beautiful then you thought it was possible. While you enjoy the installation in the nearby you can hear the symphony of the Sea Organs. This magical sound is created thanks to pipes located under the sea and water going in and out of them. Once you hear it you will see you could sit on the steps for hours and listen to the song oF the sea.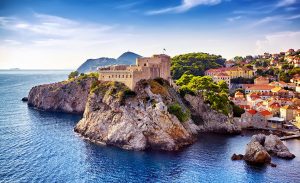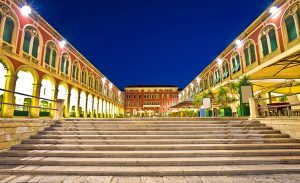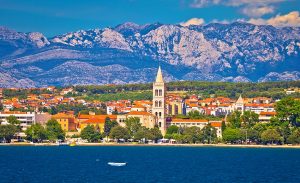 ISLAND HVAR

Island Hvar is famous among many, even in the past it served as an important strategic and nautical point. Thanks to the mild climate and being the sunniest island in Croatia it comes as no surprise that it receives many guests. Town Hvar has a long history, beautiful restaurants, and bars, many beaches and lavender fields you can explore. Also in the night, it transforms itself into a party island popular even among A-list celebrities. It definitely is an island worth visiting.
ISLAND KORČULA

Korčula is a fascinating town also known as the birthplace of Marco Polo. This place hides away many beautiful locations and gastronomic delights offered all over the Old Town center. What is super impressive about Korčula is the clear sea and beautiful beaches adapted for kids too. The old town center radiates long history and tradition. Among the streets, you'll find many charming restaurants where you can enjoy in local delicacies. Although seafood is super popular and often on menus but make sure to try Makaruini – a traditional handmade pasta.
ISLAND BRAČ

Brač is the largest island of Croatia and it is famous for the production of radiant white stone, olive oil, and most beautiful beach in Croatia called Zlatni Rat or Golden Cape. You will be amazed by the landscape of this island that is loved among locals too. However, a biggest must visit is a Golden Cape (Zlanti rat) beach in Bol. It is a great beach for families, and water sports enthusiasts. You can spend the whole day even on the beach because there are snack bars and cafes you can stop by too. However, Brač has other stunning sleepy villages that you could also explore if preferred.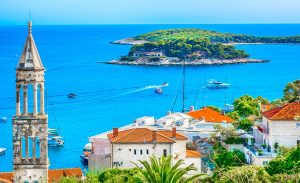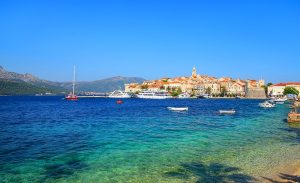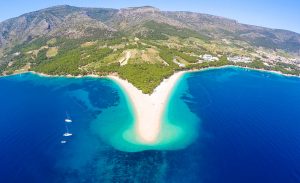 ISLAND ŠOLTA

Those who are looking for a perfect getaway where they can have fun with water toys and enjoy in the calm sea you should visit Šolta. Not so far from Split Šolta gives a totally different vibe and doesn't lack activities and attractions for quality days there. Here you'll be able to enjoy in authentic island life, nature and mesmerizing landscapes. You can go hiking, biking or driving and capture gorgeous photos and witness the most amazing views!
NATIONAL PARK KORNATI ISLANDS

For all the nature lovers a special treat is National Park Kornati island that are the largest Adriatic archipelago with preserved nature and lush green forests. Park is situated between towns of Šibenik and Zadar that you can visit prior or after the Kornati depending on your route. Those who want to enjoy to the fullest we recommend you to take the opportunity to go snorkeling, swimming or enjoy in any kind of watersports, for example, kayaking. Possibilities are endless and we can help you organize and plan everything.
NATIONAL PARK KRKA
Town of Skradin will is your first stop before heading to National  Park Krka since Krka is only reachable by parks boat in aims to preserve nature from mass tourism and pollution. Skradin is a small town and has one of the s most beautiful marinas where you'll anchor. National Park Krka has stunning landscape and nature but it is best known for its waterfalls! And the best of all is that you can seek refreshment and swim next to waterfalls in pristine clear water. This will make you feel absolutely relaxed.