Gulet cruise in Croatia for seniors
Visit historical cities, explore interesting sites, and enjoy the pristine nature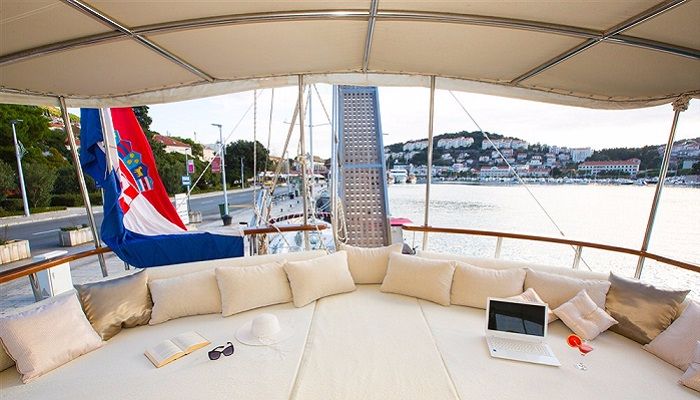 Planning your gulet cruise
With a gulet cruise specially tailored for seniors, you and your group can enjoy the unspoiled nature to the fullest and visit a lot of interesting sights. Each day of the cruise you can explore different towns, villages, and natural parks, take a guided land trip or simply enjoy the beautiful beaches. Possibilities are countless.
Possibilities are countless. The itinerary for seniors, with a rich history, beautiful unique places to visit and wondrous nature, is especially great for older couples and groups who like to explore, but can also relax and stay onboard some days if they wish.
A perfect gulet for you
Choose a gulet that is of bigger size and has a wider beam. This way your group will feel very comfortable during your cruise and there will be a lot of room for everyone. Cabins sizes are also important to consider. You should choose a gulet with a flexible crew that is very professional and can speak perfect English.
It is a good idea to book a half board accommodation (with breakfast and lunch) with the maximum of two or three dinners on a gulet, so you have an opportunity to dine ashore on most evenings. This way you can experience a larger variety of local cuisine and explore more interesting new places.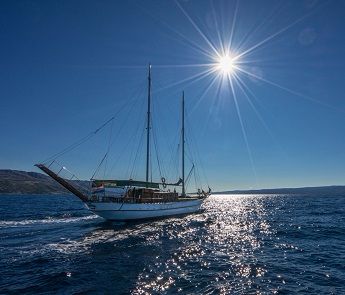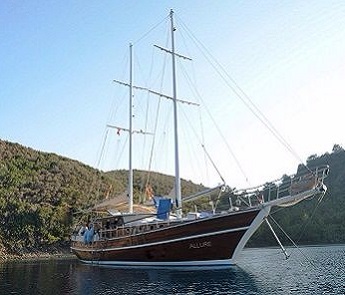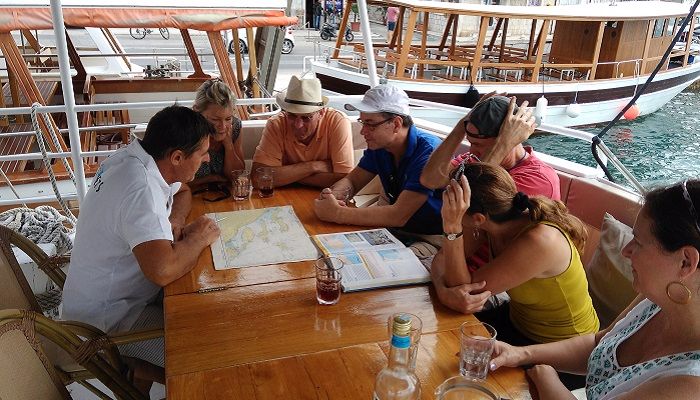 Choosing the itinerary
We recommend an itinerary where you will be able to explore different cities, towns, and other interesting places every single day. You should check at least one or two of the numerous Croatian national parks and enjoy pristine nature. You can also try wine tasting trip, go hiking, visit villages, or try some of the various guided trips.
Most of the time our senior groups were the happiest when the food was amazing and drinks were well organized, the crew was professional, and the itinerary included lots of different places to visit. Below you can read more about the cruise possibilities in Croatia.
Great route for active seniors who like interesting historical cities, pristine nature, swimming, hiking, and sightseeing
This itinerary idea shows you the possibilities for a one-way cruise from Dubrovnik to Split/Trogir (or the other way around). The basic concept of this cruise idea is to see the most with as little amount of traveling as possible. The itinerary is a great combination of small towns, astounding nature parks, and picturesque bays. This kind of route also offers you a lot of extra activities and provide you with the perfect mixture of swimming, sightseeing, hiking, and nature.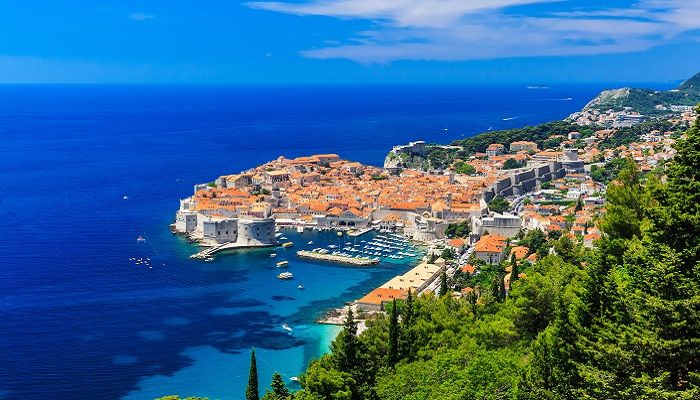 Dubrovnik
There is no better place to start your cruise than Dubrovnik. It is a stunningly intact medieval walled city on the Adriatic sea coast and the most beautiful jewel of Dalmatia. Dubrovnik was included into the UNESCO list of World Heritage Sites for its cultural and historical heritage. There are countless sights to see in the town, old architectural monuments, museums, aquarium, and churches.
You can take a guided tour of Dubrovnik and learn all about its history. You can have a drink on the main thoroughfare of the old town Stradun, visit the fortress Lovrjenac or bath on the city beaches or nearby Lokrum island. No visit to Dubrovnik would be complete without a walk around the spectacular city walls, the finest in the world and the city's main claim to fame. From the top, the view over the old town and the shimmering Adriatic sea is sublime
Mljet and Lastovo
The island of Mljet is often described as the most beautiful and greenest island of the Adriatic. It is one of culturally and historically most interesting pearls of the Mediterranean and a great place to relax, swim and sunbathe and most of all enjoy the nature. You have a chance to visit National Park Mljet, established in 1960, that covers the entire northwest part of the island. The park's main attractions are two salt water lakes. Mljet is a perfect combination of hiking through the forests, swimming in the clear blue sea, and sightseeing.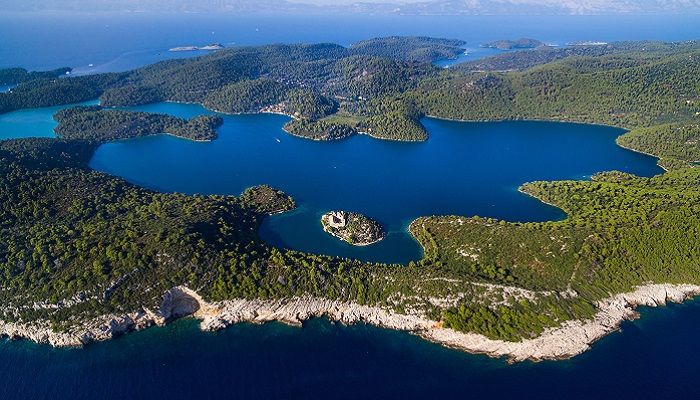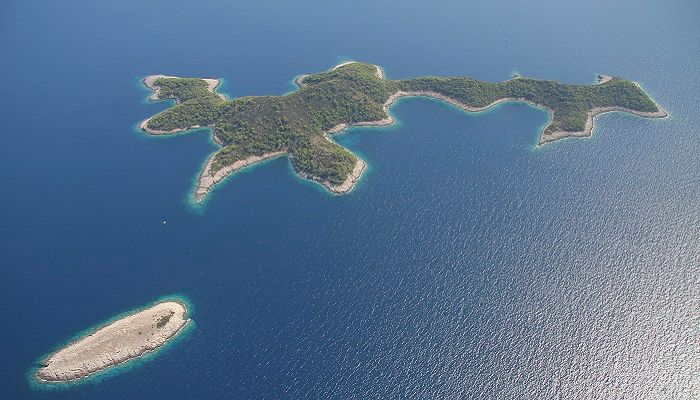 From Mljet the cruise continues to the nearby island of Lastovo. The island is noted for its 15th and 16th-century Venetian architecture and especially for its natural beauty and preservation of natural landscapes. National park Lastovo, established in 2006, is the youngest natural park in Croatia and strives for the preservation of pristine nature of the Mediterranean. Here you can enjoy the pure untouched beauty of nature. There are numerous options for hiking and relaxation.
Korčula
Next, the cruise takes you towards the island of Korčula and its renowned historic city Korčula, also known as "Little Dubrovnik" and home to famous explorer Marco Polo. The most prominent mark on the city was left by the Venetian Republic, especially in the beautiful architecture. This amazing Dalmatian pearl offers you museums and historic sites, good restaurants, and amazing places to swim.
Another interesting place is a small town Vela Luka (Big Harbor) on the western side of the island with a rich cultural inheritance that can be seen in the exceptional museums, galleries, architecture, and archeological sites. Nearby there is an extraordinary archeological site Vela Spila (Big Cave) that is one of the most important prehistoric cave dwellings in Europe.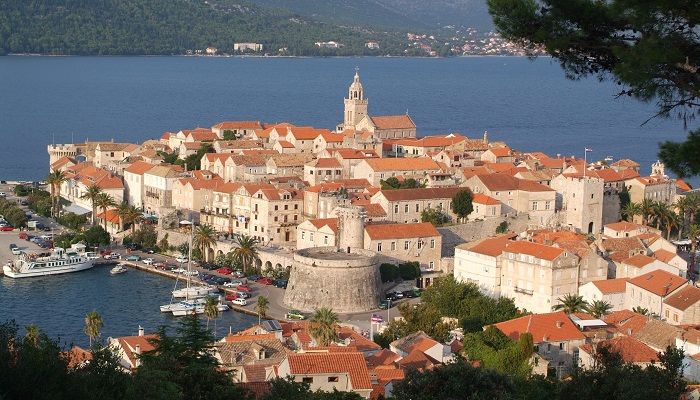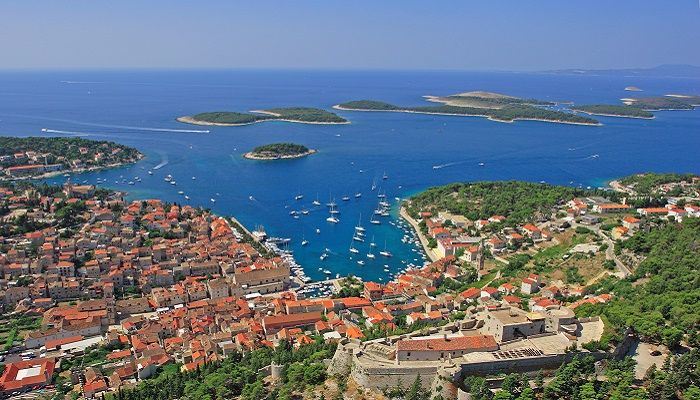 Hvar and Pakleni Islands
The Island of Hvar was rated as one of the top 10 most beautiful islands in the world. The main highlight of the islands is the town Hvar with lots of different sightseeing and hiking options and is a must see destination in the afternoon or evening.
Hvar is a beautiful Dalmatian town with numerous excellent restaurants specialized in local cuisine as well as in exotic specialties. You will be swept away by the Hvar's rich history that goes back to prehistoric times.
If you prefer to stay away from heavy crowds and just swim in beautiful bays you can anchor on Pakleni Islands nearby. Pakleni Islands (Hell Islands), group of small islands in the proximity of the town Hvar bay, are most unique and the recognizable natural treasures of Hvar.
Brač
The Island of Brač will impress you with its beautiful villages and amazing beaches. Bobovište is a picturesque village with nice and calm atmosphere and no heavy crowds. Here you can take a walk or have a dinner ashore. You can also visit Milna, a village in the western part of the island located in a natural harbor which is famous for natural beauties, baroque architecture, and shipbuilding tradition.
Near the small town Bol on the southern coast of the island, you have a chance to swim and sunbathe on the most beautiful Adriatic beach know as Zlatni Rat (The Golden Horn). It is a beautiful gravel beach with recognizable white color and shape that keeps changing, depending on the tide, currents, and winds. The beach is surrounded by lavish pine forest where you can see the remains of the ancient Roman Villa Rustica.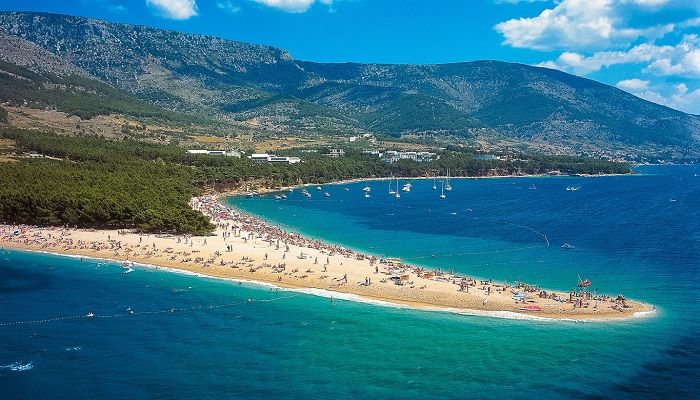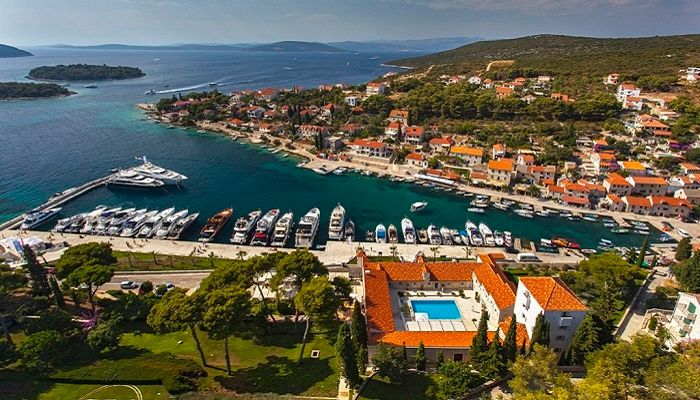 Šolta
Before mooring in Split, you can explore the beauty of Šolta, the island of olives, honey, and wine. Šolta is not widely known, it has no famous medieval churches, fancy restaurants or souvenir shops. Its quietness and greenery used to inspire Croatian poets.
Šolta still remains unspoiled by mass tourism and upon the visit, you will get the feeling that time has simply stopped there. You will be able to enjoy a clean nature and satisfy your taste buds with treasures of the local cuisine.
Split and Trogir
You can end the cruise by visiting the two beautiful jewels of Dalmatia, Split or Trogir. These two small historic coastal towns with more than 2000 years of continuous urban tradition are both included on UNESCO's list of World heritage sites.
You must check the beautiful old town of Split, visit a museum or maybe take a guided tour around Roman emperor Diocletian's palace. Trogir is a small coastal town west of Split and is very close to the airport. The city is famous for its Venetian architecture.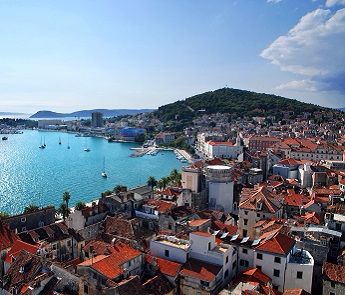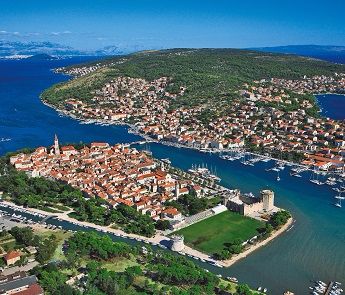 Get the perfect gulet from Croatia for you
Send us your wishes and get free assistance from our cruising expert.